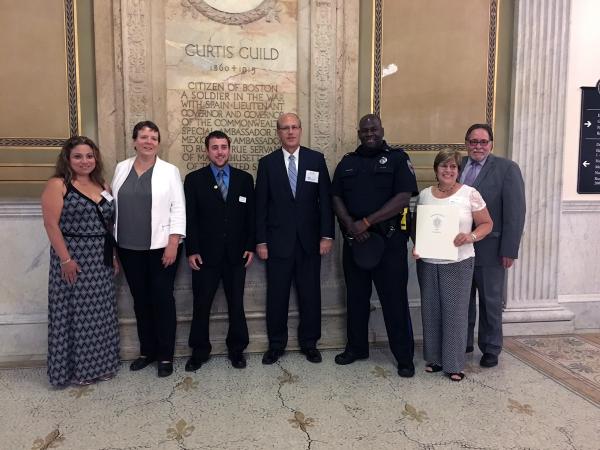 (L-R) Sally Borges, Supervisor of Health Services; Joyce Husseini, former School Committee member; Moss Lynch, School Outreach Coordinator, Safe Routes to School/Mass DOT; Representative William C. Galvin; Officer Din Jenkins, Stoughton Police Department; Lynne Jardin, Gibbons School Principal; and Representative Louis L. Kafka.
Massachusetts Department of Transportation (Mass DOT)
The Safe Routes to School program, part of the Massachusetts Department of Transportation (Mass DOT) presented awards to the Gibbons Elementary School for Safe Routes to School (SRTS) as an Exemplary Program in the South Region, and to Sally Borges, Supervisor of Health Services, as a Safe Routes to School Superhero of the Year in the South Region, on Wednesday, June 29, 2016 in the Grand Staircase Hall at the Massachusetts State House in Boston.
In the 2015/2016 school year, Safe Routes to School (SRTS) registered close to 600 walk and bike to school day events, held 240 pedestrian and bicycle safety trainings, and set new participation records for both Walk and Massachusetts Walk and Bike to School Day. The Helen H. Hansen Elementary School, JH Gibbons Elementary School, Joseph R. Dawe Jr. Elementary School, Robert G. O'Donnel Middle School, South Elementary School, and West Elementary School are partners in this program.
-----------
Stoughton Public Schools recognized for Safe Routes to School program
Stoughton Journal, July 12, 2016
The Massachusetts Department of Transportation recently recognized successful Safe Routes to School program participants. Sally Borges, the supervisor of health services for the Stoughton Public Schools, received the Superhero of the Year award for her work and Gibbons Elementary School received the Exemplary Program award. Gibbons School Principal, Lynne Jardin, and the school's resource officer, Officer Din Jenkins of the Stoughton Police Department, accepted the award on behalf of the school.
A variety of officials spoke at the formal ceremony held at the Massachusetts Statehouse, including Lieutenant Governor Karyn Polito and Mayor Michael Cahill of Beverly. State Reps. Bill Galvin, D-Canton, and Lou Kafka, D-Stoughton, were also in attendance to offer their congratulations.
"The program is very successful in bringing safety awareness to the students. We are fortunate to include our school resource officer, Officer Jenkins. He attended each of our programs and had positive connections with the students. It helps support the message that our police are there for our safety as well, as there are students who only see the police under difficult circumstances," said Jardin.
"When I was a kid, most students walked or biked to school. These options provide kids with exercise, independence and helps familiarize them with their neighborhood. This is a wonderful program and I congratulate the Stoughton Schools and the Stoughton Police Department for getting involved," said Galvin.
"These awards are very well deserved," said Kafka. "Providing students with more opportunities to walk or bike to school promotes healthier lifestyles and helps to reduce the likelihood of childhood obesity. "
SRTS is in its tenth year of encouraging communities to offer a safe environment for elementary and middle school children to walk or bike to school. This provides students with an opportunity to exercise, reduces pollution and traffic, and fosters continued growth of safe and sustainable communities. SRTS focuses on the five E's: Education, Encouragement, Enforcement, Evaluation and Engineering. MassDOT has assisted with 22 infrastructure projects since 2006, aimed at improving safety conditions for pedestrian traffic in and around school zones.
All five Stoughton elementary schools and the O'Donnell Middle School participate in the SRTS program.
http://stoughton.wickedlocal.com/news/20160712/stoughton-public-schools-...