The School Committee unanimously approved a three-year contract for incoming Superintendent of Schools Dr. Thomas Raab at their September 14 meeting. Dr. Raab's first day as Superintendent of the Stoughton Public Schools will be Monday, October 4, 2021. Even though he hasn't officially started yet, Dr. Raab has already been seen around the District, taking part in meetings, visiting schools, and attending events. We look forward to when he formally joins us on October 4.

Want to get to know more about our incoming superintendent? Read this profile posted below.
---
Dr. Thomas Raab hasn't officially started in his role as the next Superintendent of the Stoughton Public Schools, but he is already preparing for day one on the job (October 4) and has plans to stay a while.
Dr. Raab is currently finishing his duties as an Assistant Superintendent in Hanover and had the chance to visit SPS at the end of August. He started the day at the Gibbons School's Kindergarten Meet and Greet event, telling families that he wanted to hand the incoming kindergarteners their diplomas when they graduated from high school in 2034. After interacting with students and families at the Gibbons, Dr. Raab stopped by the new teacher orientation, met with building principals and members of the leadership team, toured the new SHS, and was briefed on the South School Building Project.
"My first goal is to learn everything that I can about Stoughton. I look forward to learning about the industry, people, and customs of the town. Over the next several weeks, I look forward to attending athletic events, beginning of the school year programs, school committee meetings, and back to school nights, etc., as a way to try and meet as many people as I can and continue learning about Stoughton," Dr. Raab said. "I promised to "hit the ground listening" and I meant it. You've already done the hard work of planning, prioritizing, and goal setting. My job is to actively assist Stoughton in realizing its plans using all of my experience and knowledge."
Dr. Raab comes to SPS with a wealth of professional experience spanning finance, school administration, and school counseling. He started his career as a guidance counselor in New York before coming to Massachusetts and serving as a guidance counselor at Marshfield High. Dr. Raab then went on to become vice principal at Norwood High, principal at Hanover High, business manager for the Hanover Public Schools, and is currently the Assistant Superintendent of Business and Finance for the Hanover Schools. He received his doctorate in Leadership in Schooling from UMass Lowell in 2007.
"My experiences in finance, administration, and counseling have positioned me well as the next Superintendent for Stoughton," Dr. Raab said. "I understand the financial position of the district and am a fierce advocate for the schools. At the same time, I understand the educational and social emotional needs of students and how the financial aspects of budgeting impact these at every level. Educational excellence and social emotional well-being go hand in hand. You can't have one without the other. My unique blend of experiences during the past 27 years in public education have proven this connection over and over. My role is to keep educational excellence, social emotional needs of students and the budget in balance to facilitate success for all."
Dr. Raab describes Stoughton as the "perfect fit" for him, and becoming superintendent at this point in his career is perfect timing, both personally and professionally.
"On a personal level, my own children are grown and I have the time to dedicate. It is a 24/7 kind of job and I have the time in my life to focus on the many issues confronting superintendents today," Dr. Raab said.
"In order to prepare for interviews and learn as much as I could about Stoughton, I took some time to watch school committee meetings, review the triennial plan, building improvement plans, master plan, and review your budget for 2021-2022. All of these documents taken together reveal a town committed to the education of its students. It was evident to me that Stoughton has a very clear understanding of its educational priorities and these align with my own. Stoughton is a community that insists on strong academics at all levels along with students that are engaged and ready to be active citizens," Dr. Raab added. "In addition to these areas, I was very impressed with the civic pride everyone shows in their town. People are happy to boast about the new high school and the quality of all of the Stoughton schools. Having some experience with building projects at both the high school and elementary level, I know that I can help maintain the beautiful new high school and also guide the community in planning and building a state of the art new elementary school."
"Most importantly, your Target has a covered parking lot," he joked. "What is better than that?"
Dr. Raab and his wife have been married for more than 25 years, and together they have three adult children. Their eldest son graduated in 2019 from Rensselaer Polytechnic Institute and is working as an electrical engineer. Their daughter is currently attending medical school at Dartmouth after graduating this past May from the United States Air Force Academy and commissioning as a Second Lieutenant in the United States Air Force. And, their youngest son just graduated from high school and is starting at Stonehill College.
Outside of work, he enjoys reading novels (prefered genres are historical fiction and detective novels. He is drawn to anything by Clive Cussler), gardening and cooking.
"I make an awesome lasagna, shrimp scampi, chicken or eggplant parmesan. At least, those are the recipes my kids asked for when they moved out," Dr. Raab quipped.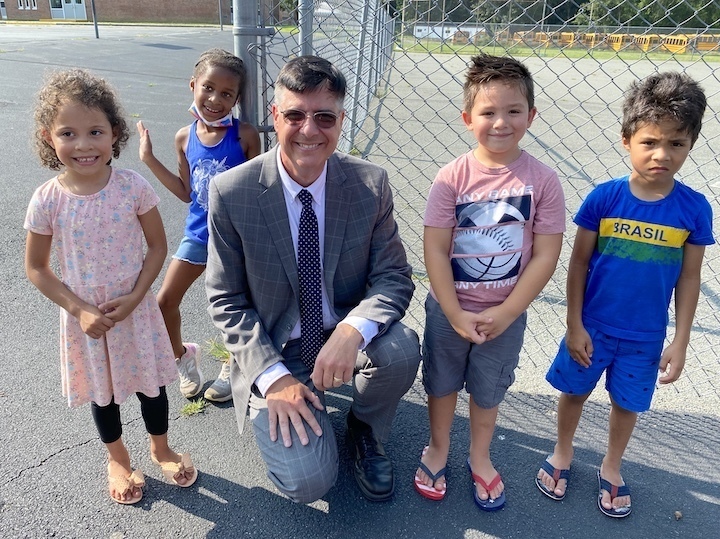 Dr. Raab with members of the Class of 2034 attending the Gibbons School's Kindergarten Meet & Greet event.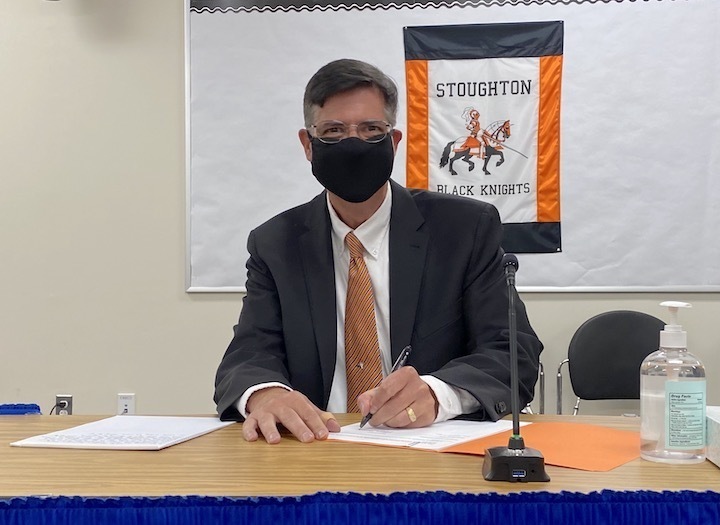 Dr. Raab after signing his contract at the September 14th School Committee meeting.