Spring sports tryouts are underway at Stoughton High! Teams began practicing March 21 in preparation for the spring season. Here is a look at some of the action...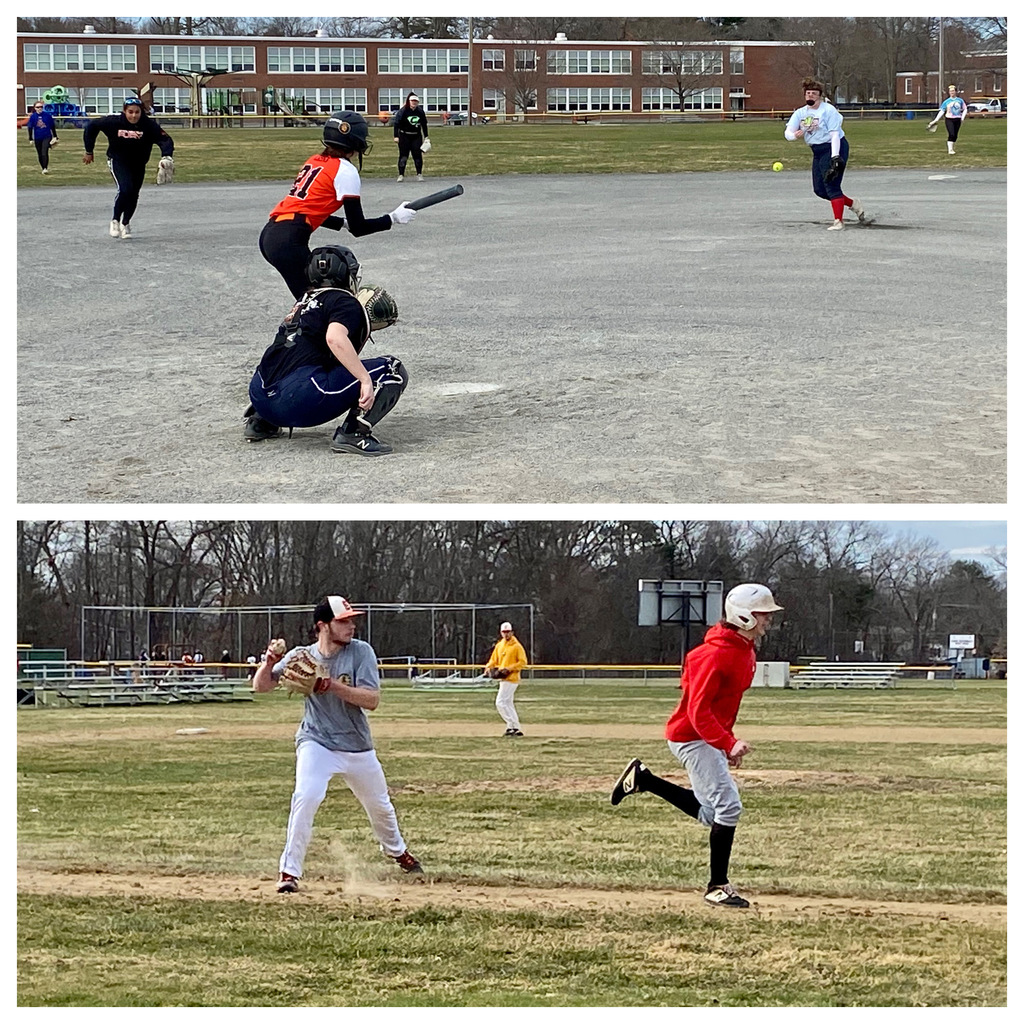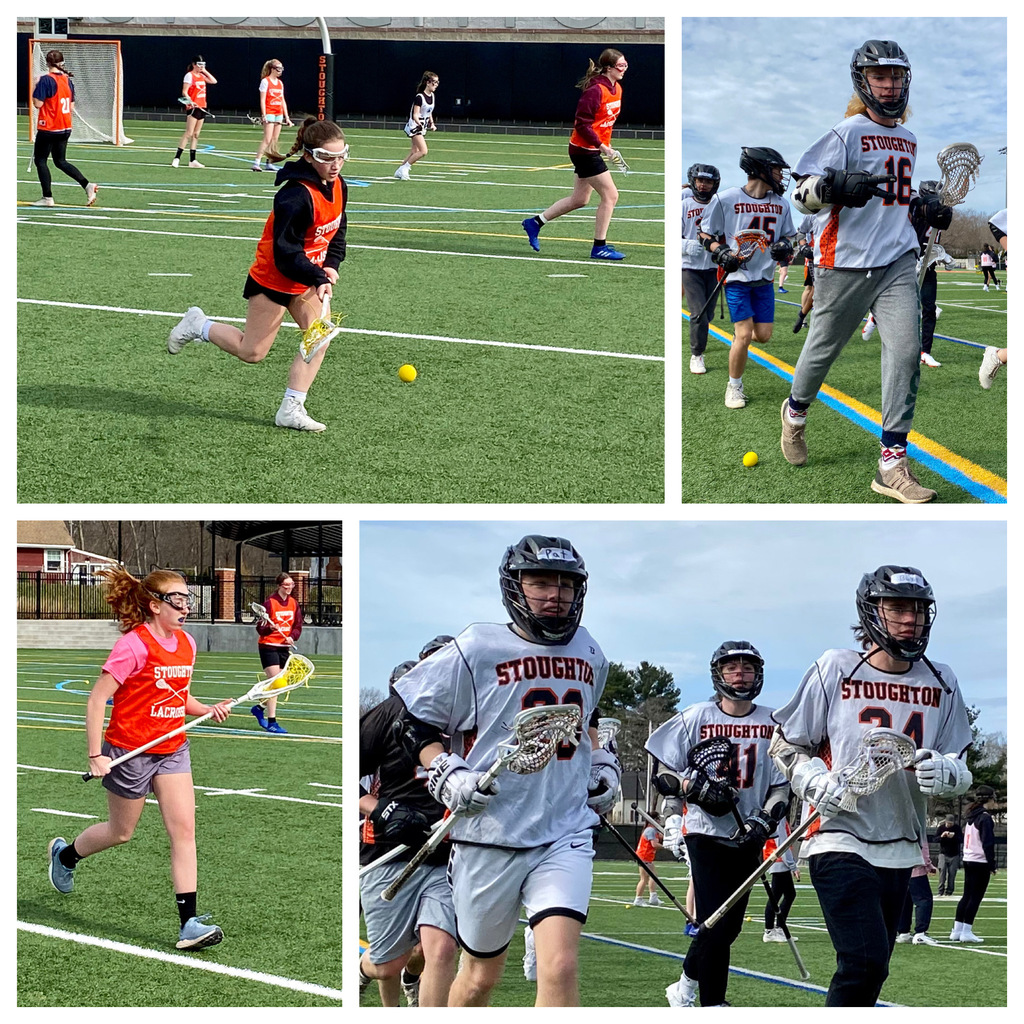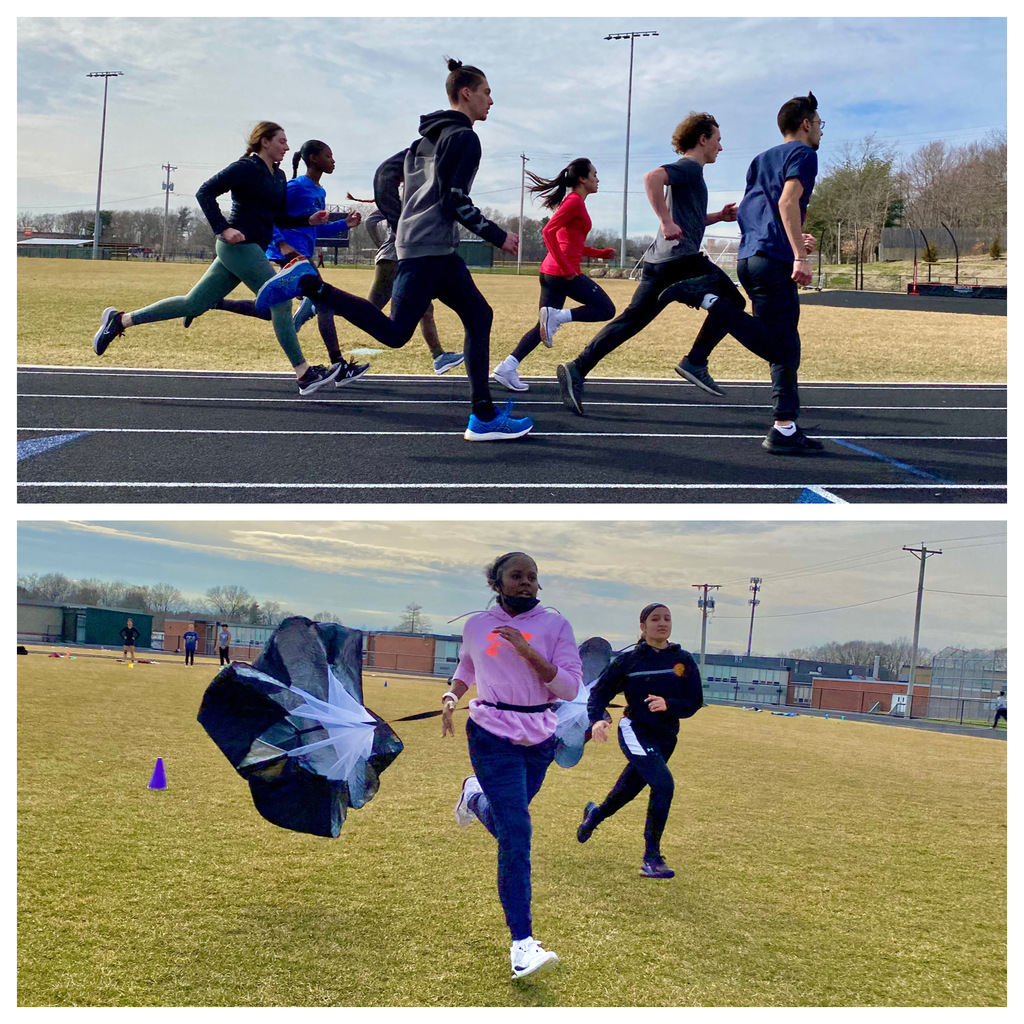 The O'Donnell Middle School Drama Club is rehearsing for opening night of Annie Jr.!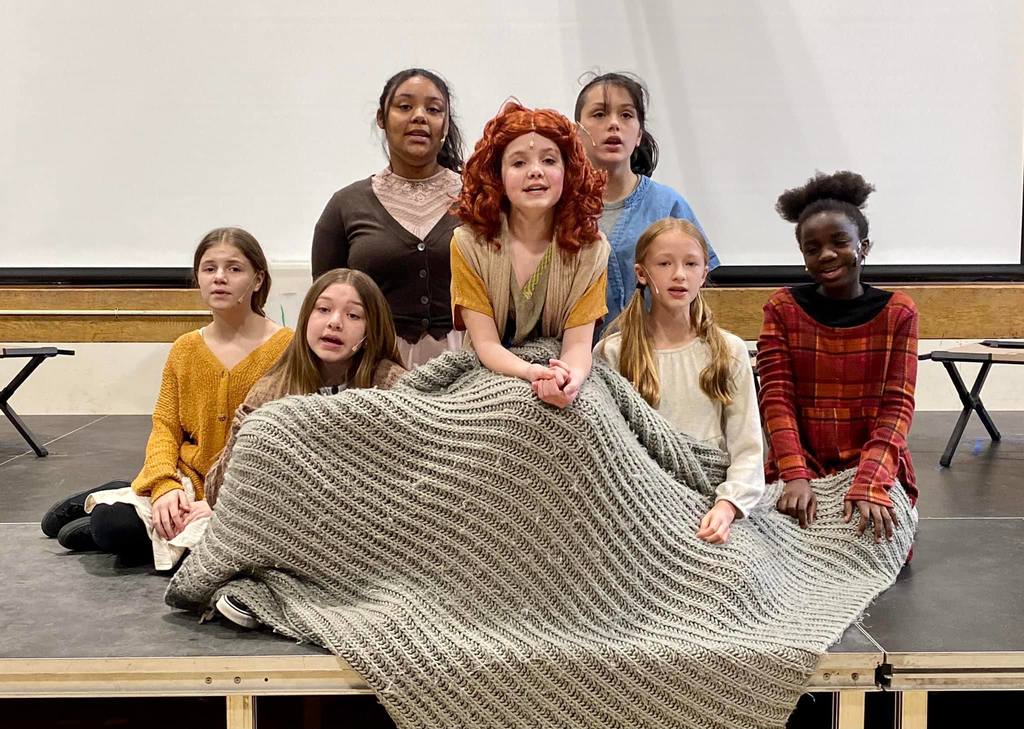 These Gibbons School third graders are ready for a great day of school!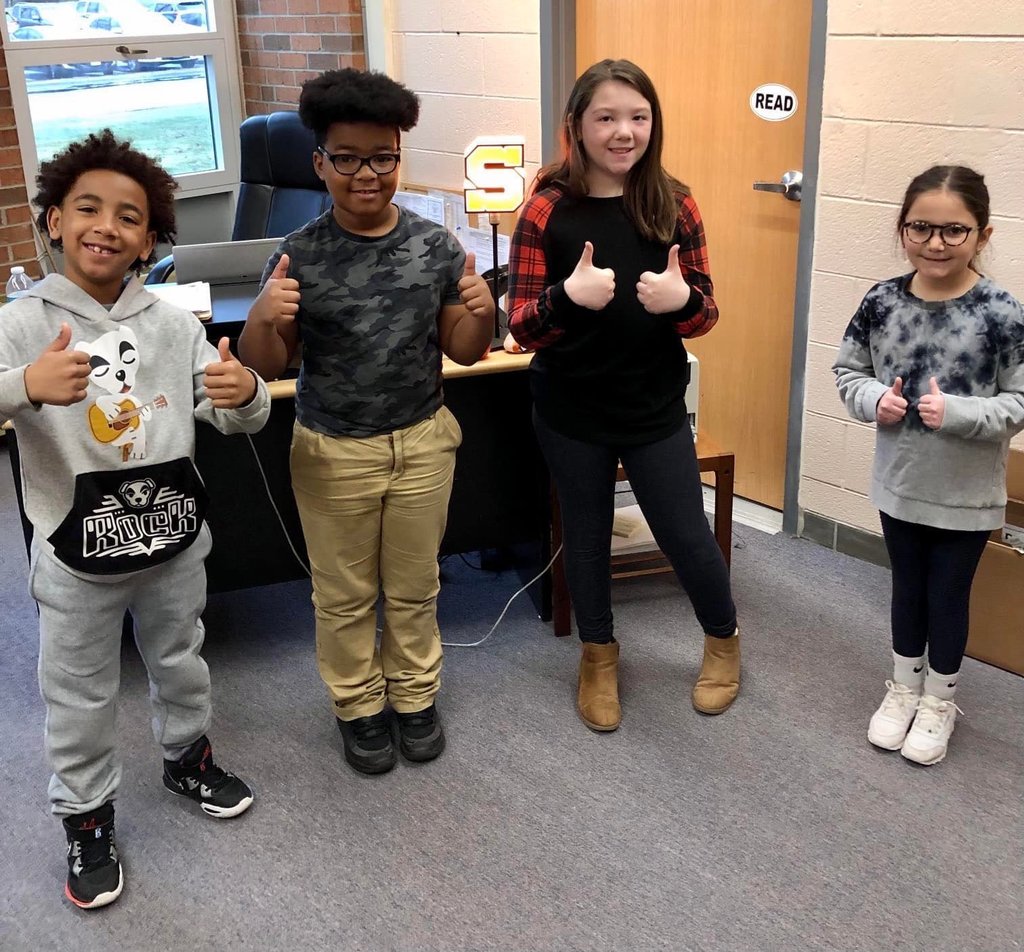 Here are some photos of Wilkins School third graders learning about frogs as part of a science enrichment program with Drs. Bless and Pearl of Science & Engineering Education Development (SEED). Third grade classes in each of our elementary schools will get the chance to participate in this program. The SEED program visited the Dawe in February, visited the Wilkins and Hansen March 21-25, and will be at the Gibbons and South March 28-April 1. Great opportunity for our students!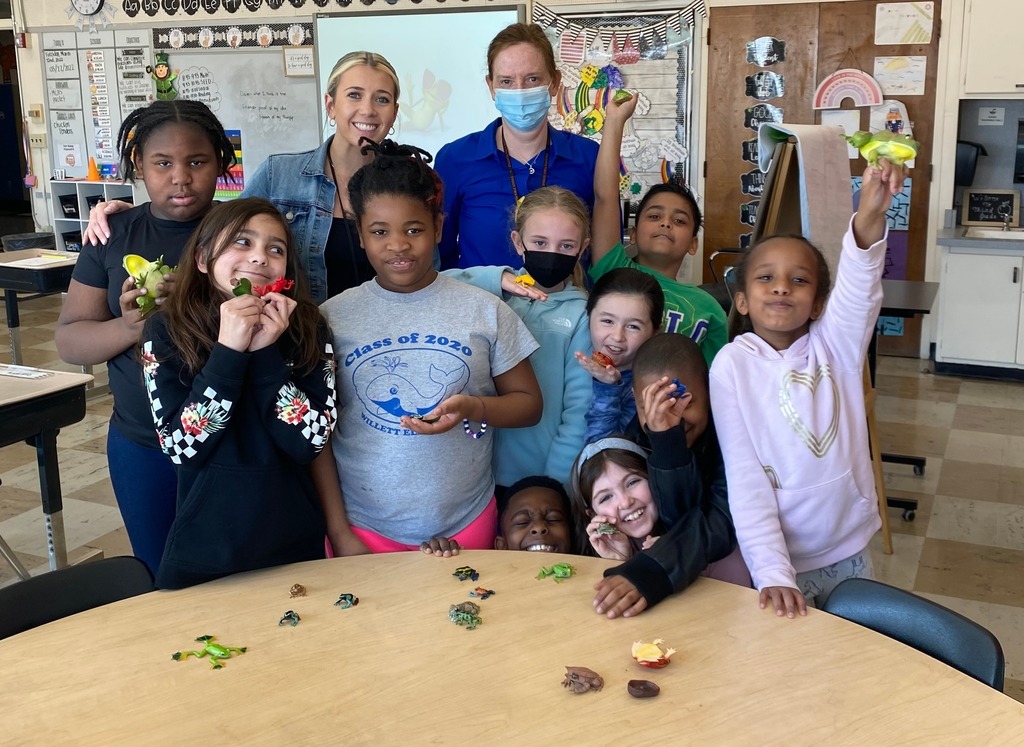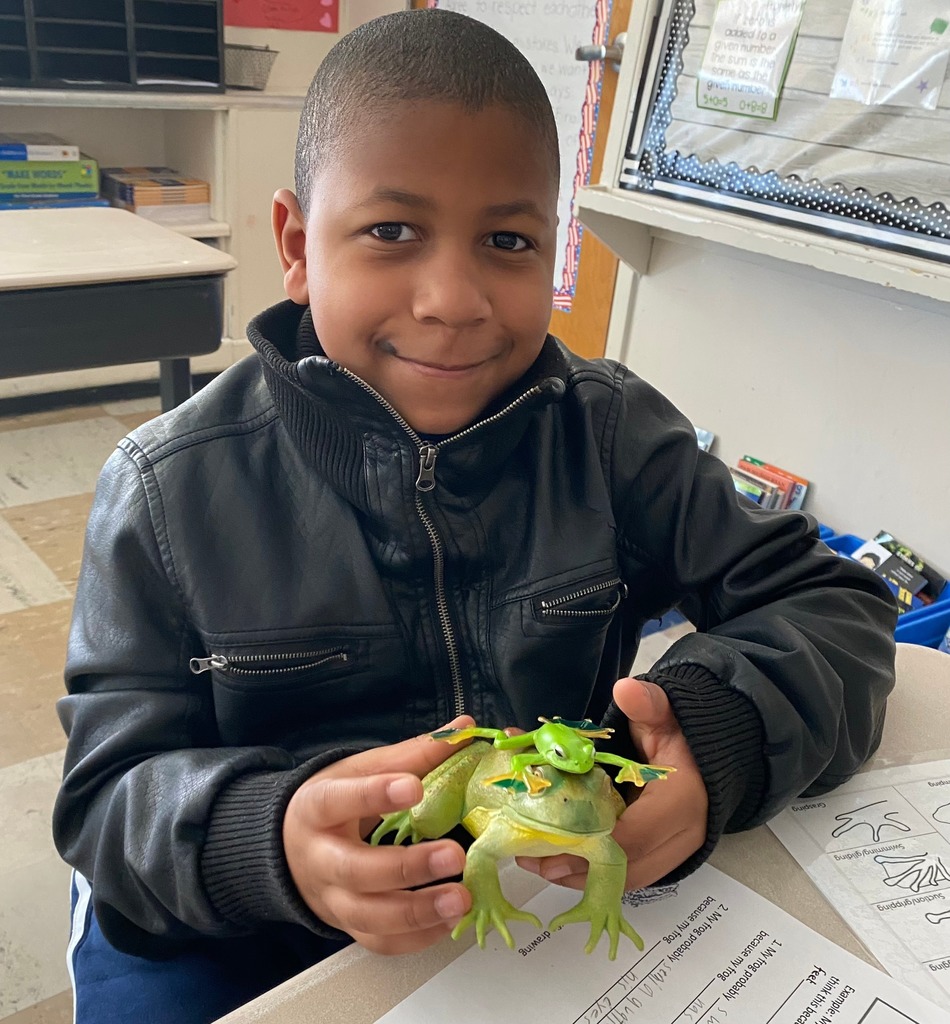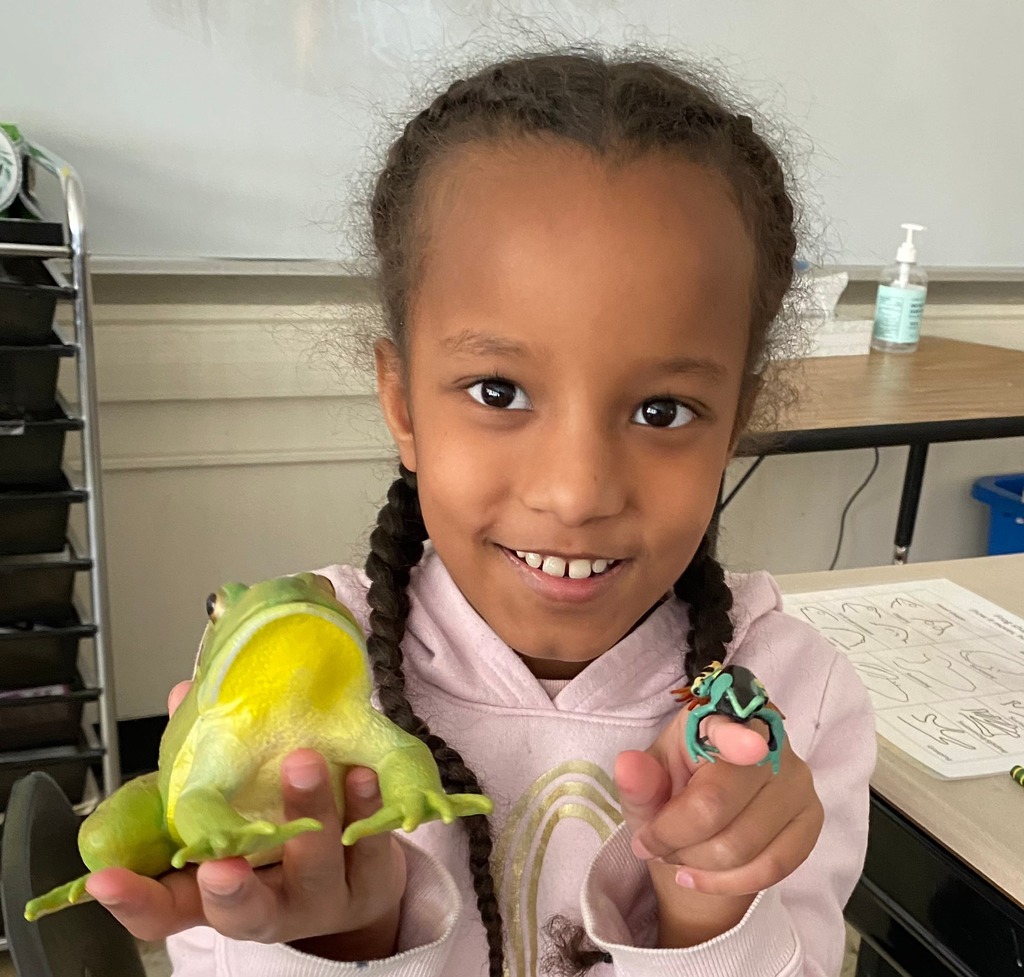 Here are a couple of examples of woodworking at Stoughton High...Julia Piercey is seen here after designing, cutting, and engraving this logo of Bentley University (her college destination) using the laser cutter. Anthony Taglieri is seen making a bookcase. Nice work!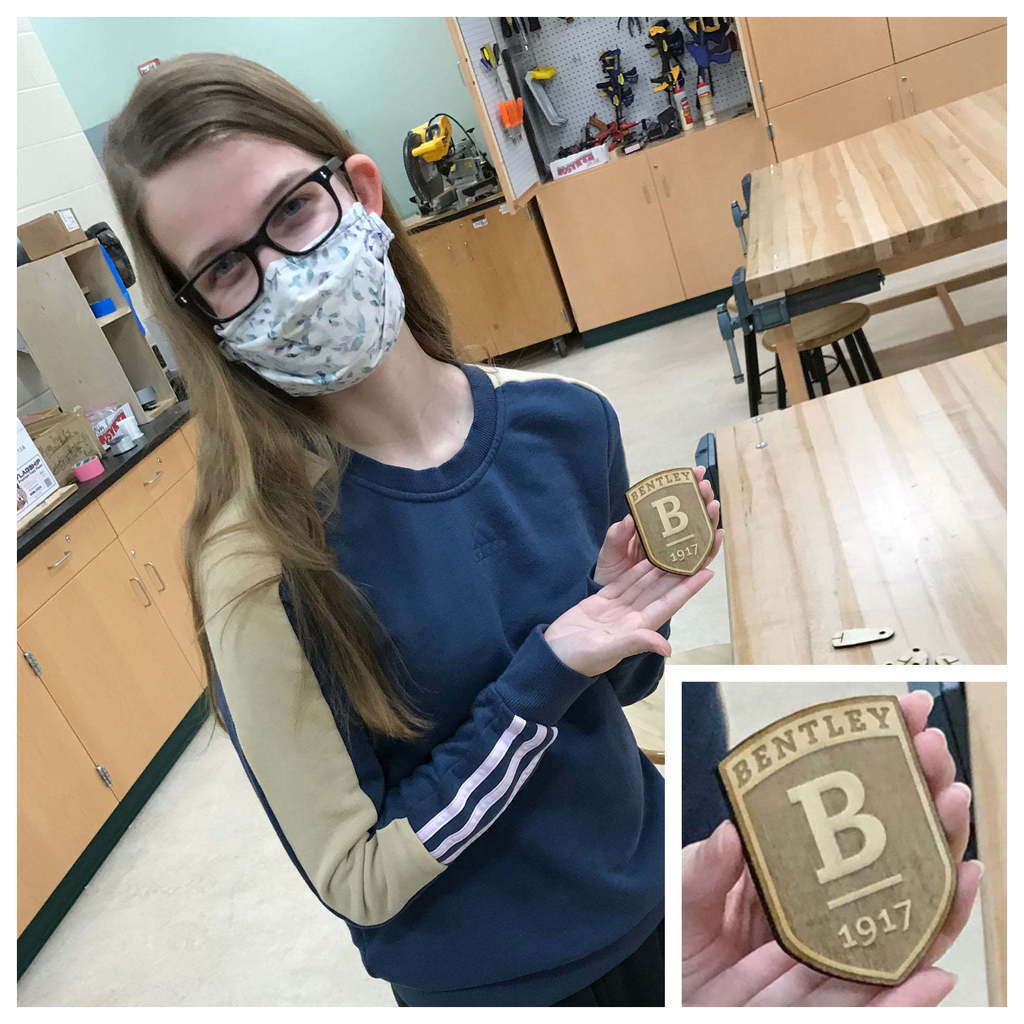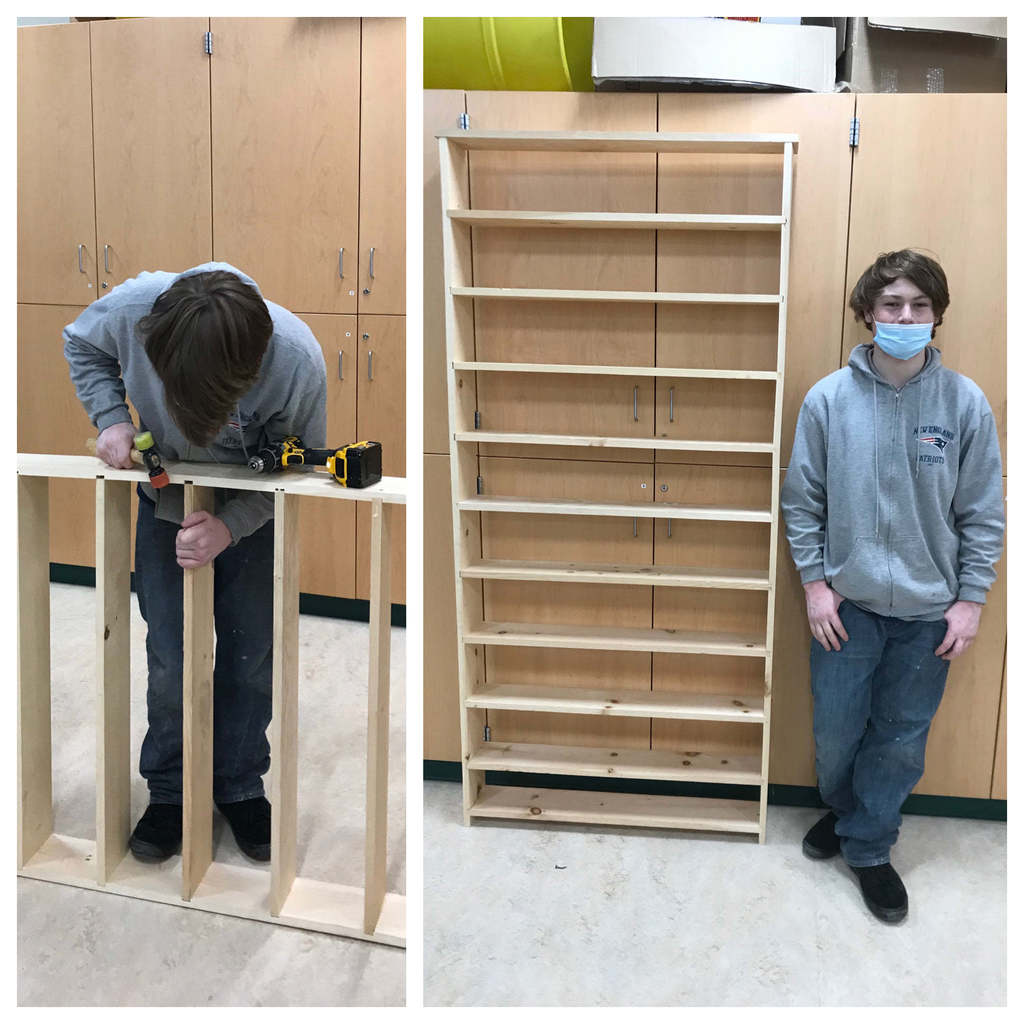 Wilkins School students had a whale of a time on March 22 as "The Whalemobile" came for a visit. The Whalemobile is a life-sized inflatable whale named Nile, modeled after a real humpback whale that can be seen off the coast of Massachusetts. The inflatable whale was set up in the Wilkins School gymnasium, with classes visiting it throughout the day. Students could even go inside the inflatable structure to get a look at what a whale's interior would look like! Students enjoyed getting up close to Nile, going inside, and learning about whales during their time with the Whalemobile.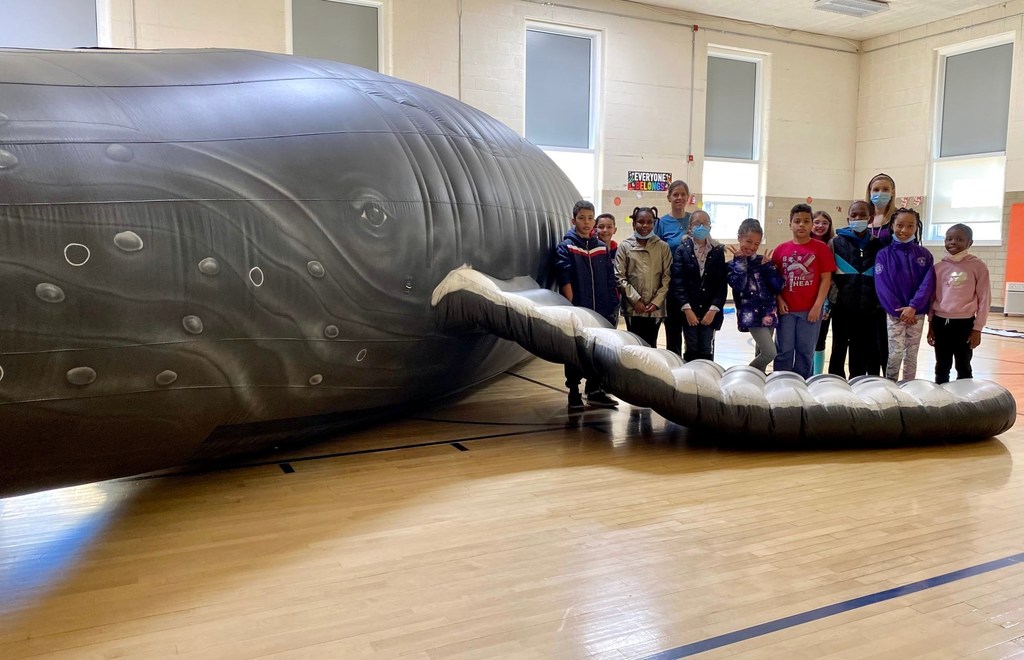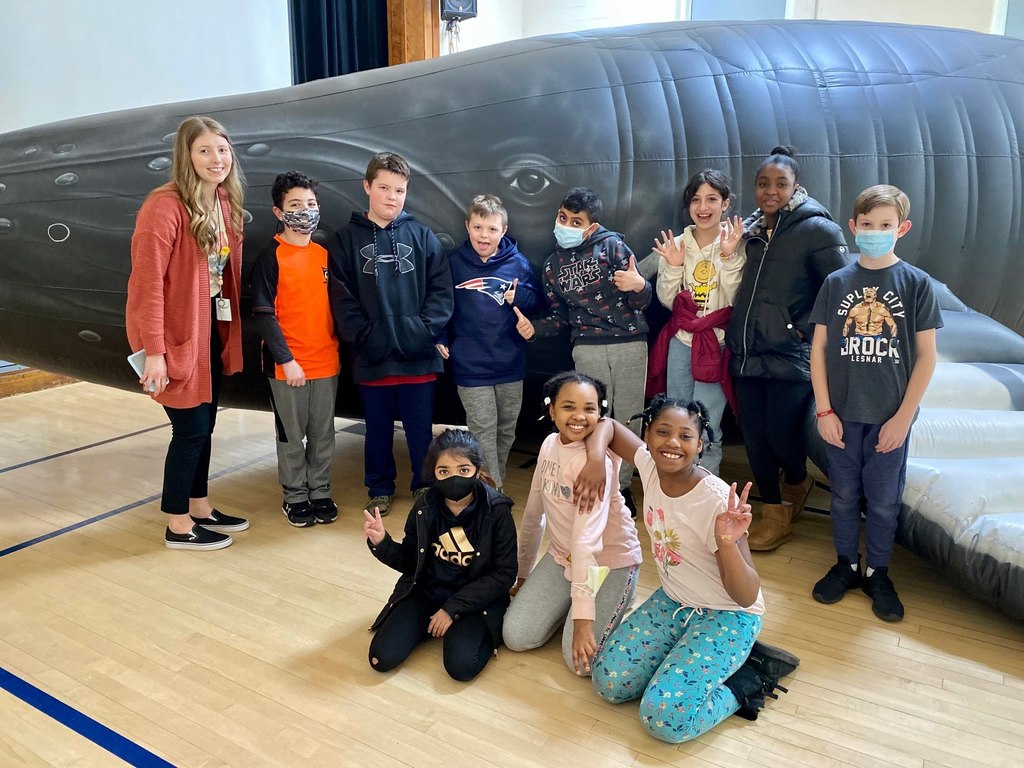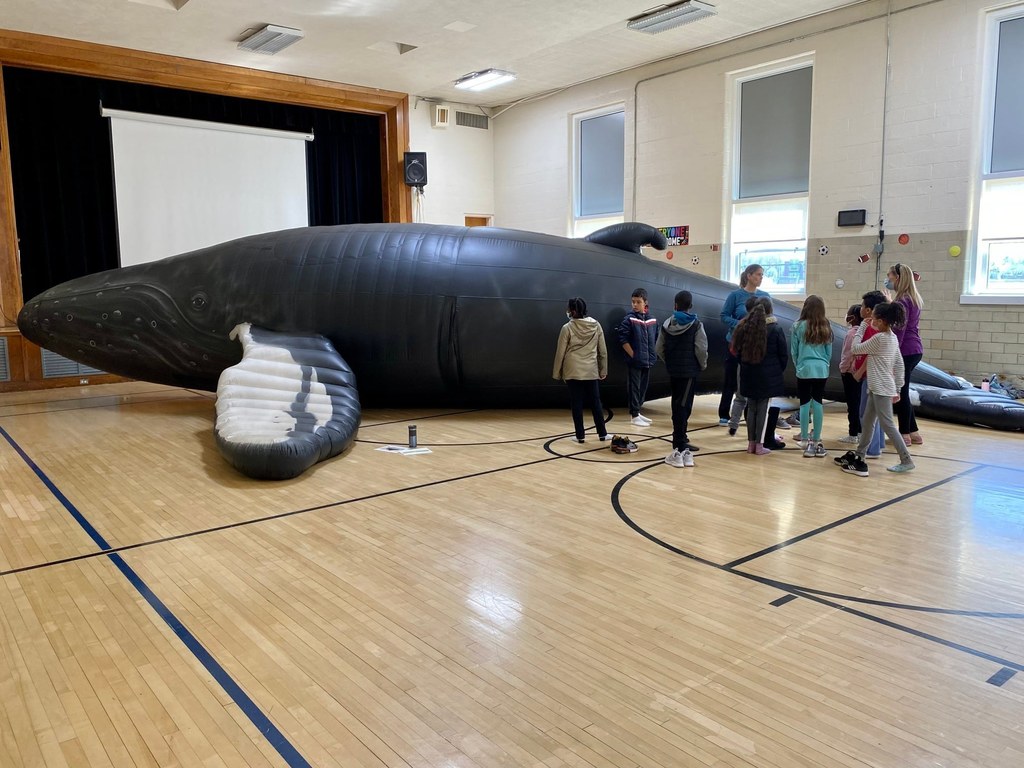 Check out this display seen recently in the halls of the Hansen School! Students in Mrs. Palmer's 4th grade class were asked to write about life lessons and themes found in the fiction books they read and recreate or reinvent a cover for the book.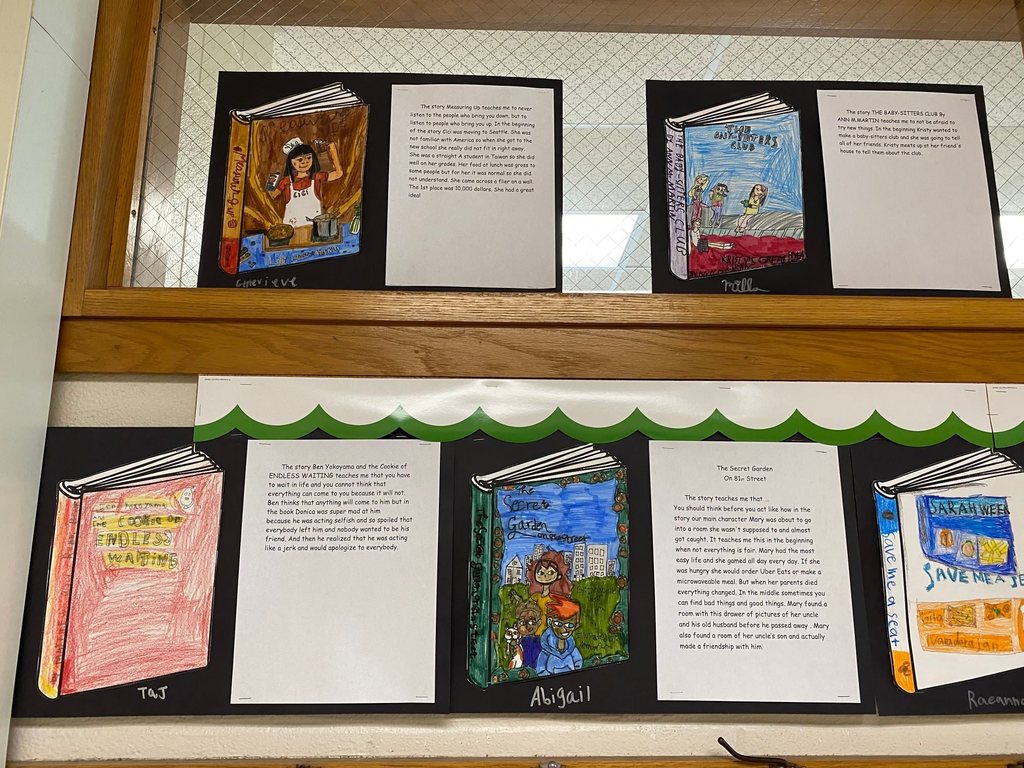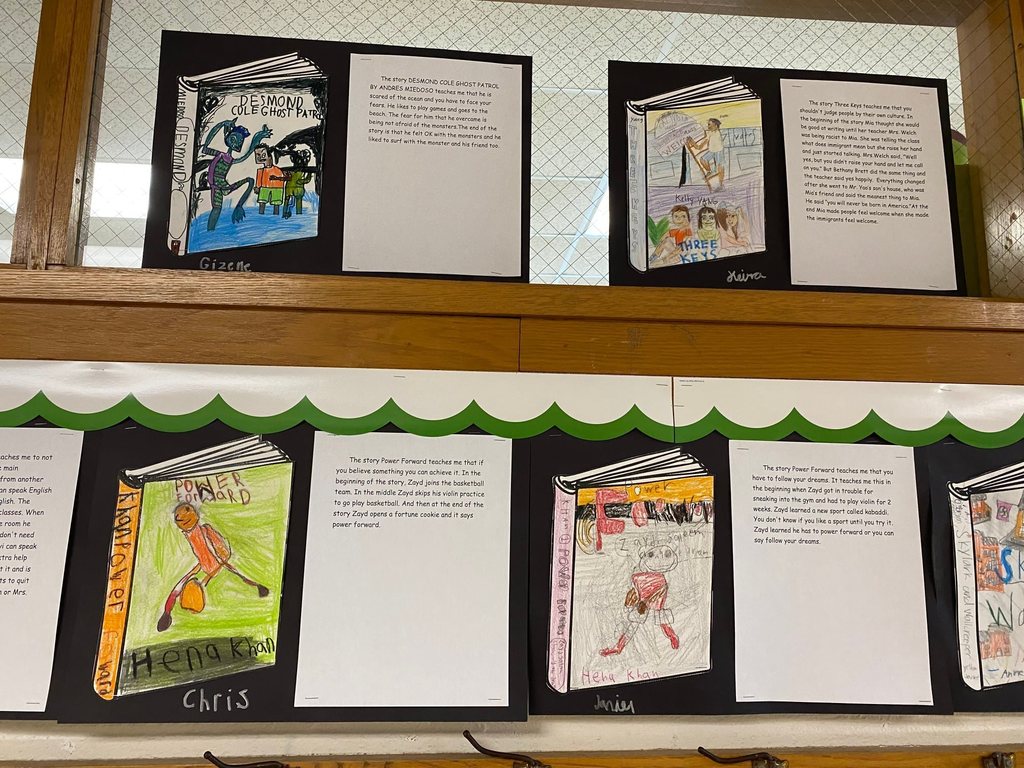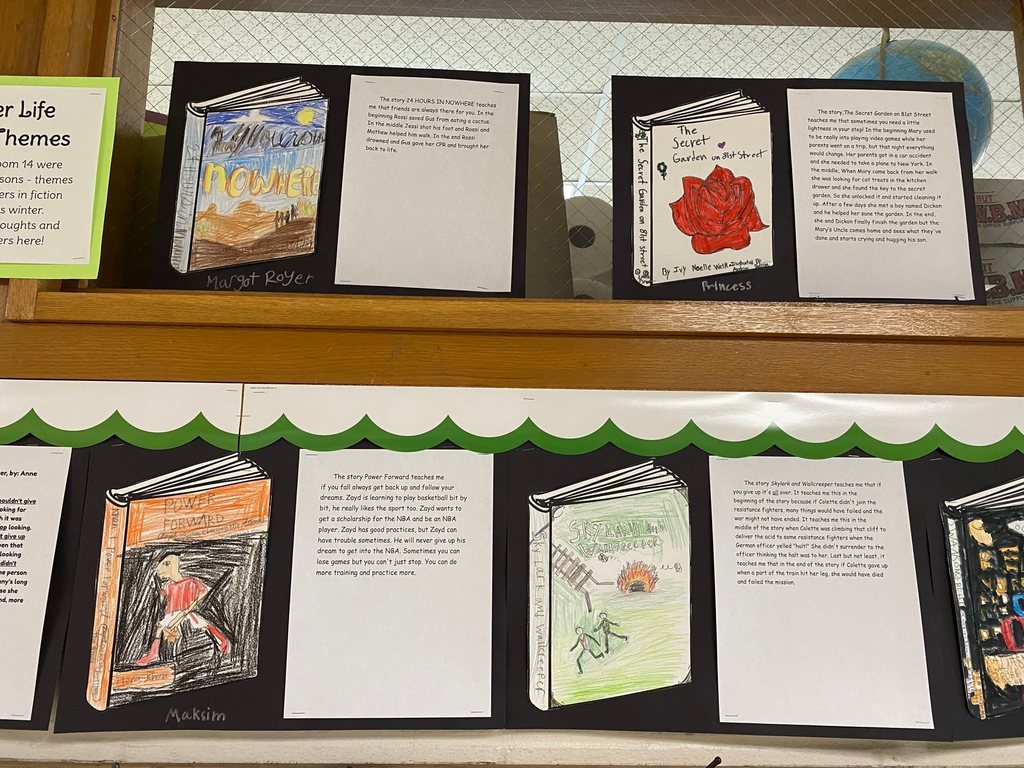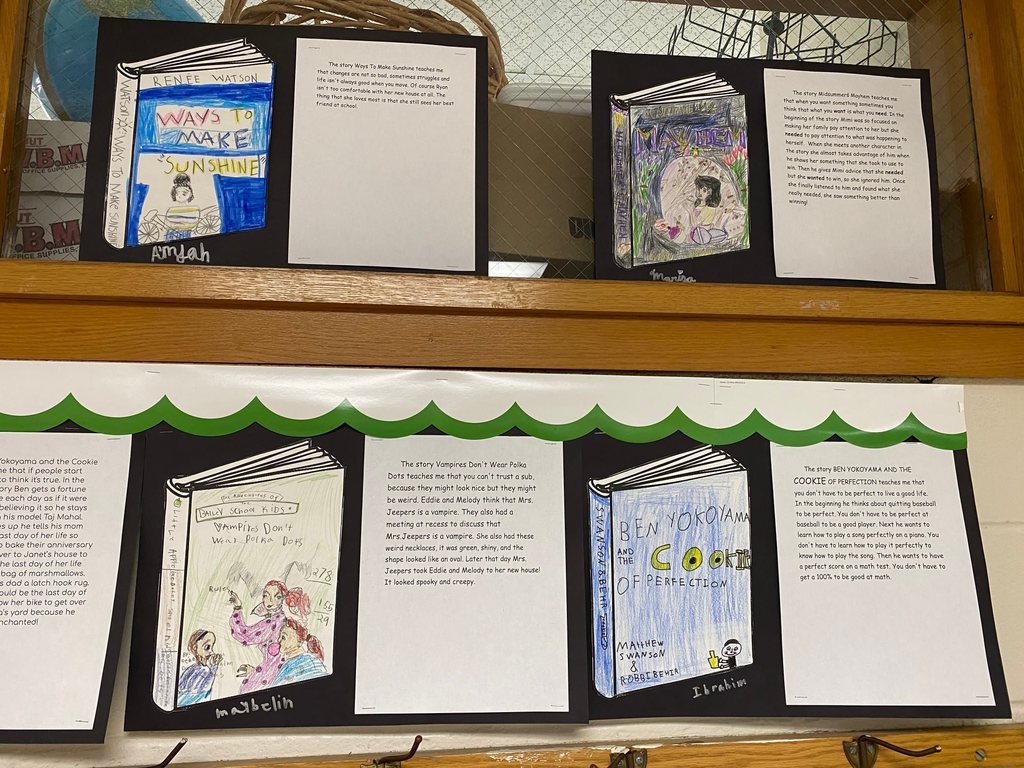 Dawe School students taking saxophone lessons! 🎷 🎶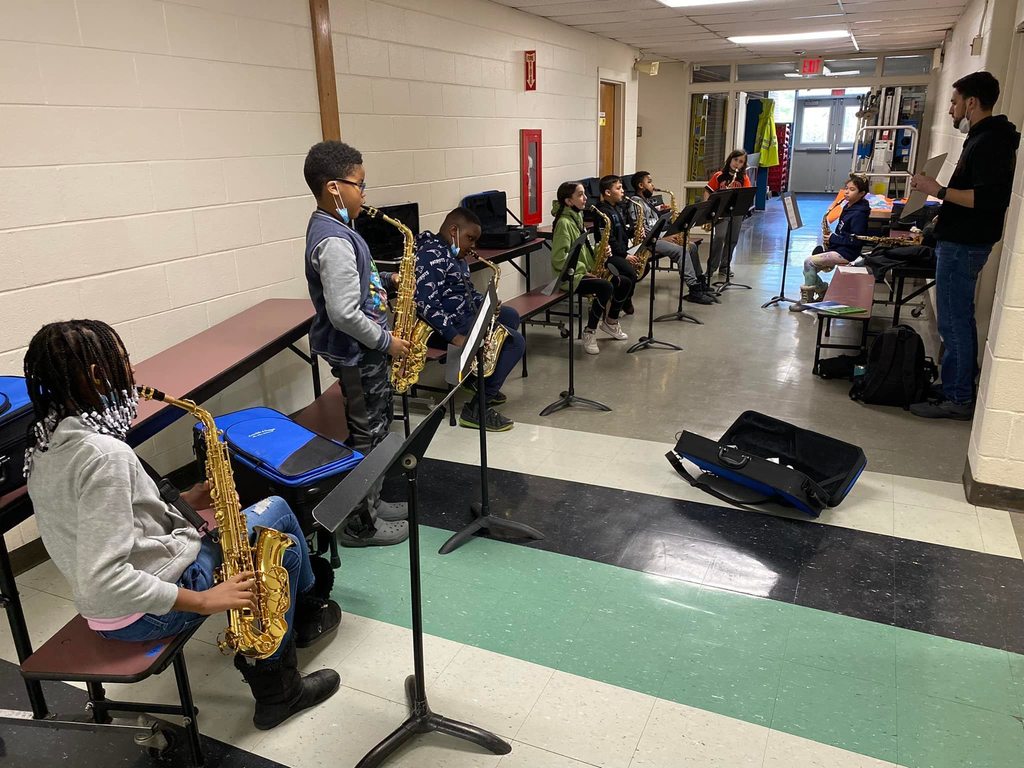 Three Gibbons School students got to be principal for a day recently! LiLianna Thompson (3rd grade), Kevin Crawley (3rd), and Alyssa Monaghan (4th) are pictured here with Gibbons School principal David Guglia. The 250 Gibbons students who completed a project for the school's "Black History Month Challenge" in February were entered into a raffle to be principal of the day, with LiLianna, Kevin and Alyssa winning the raffle. They declared March 18 to be pajama day at the Gibbons and gave classes the chance to earn some extra recess.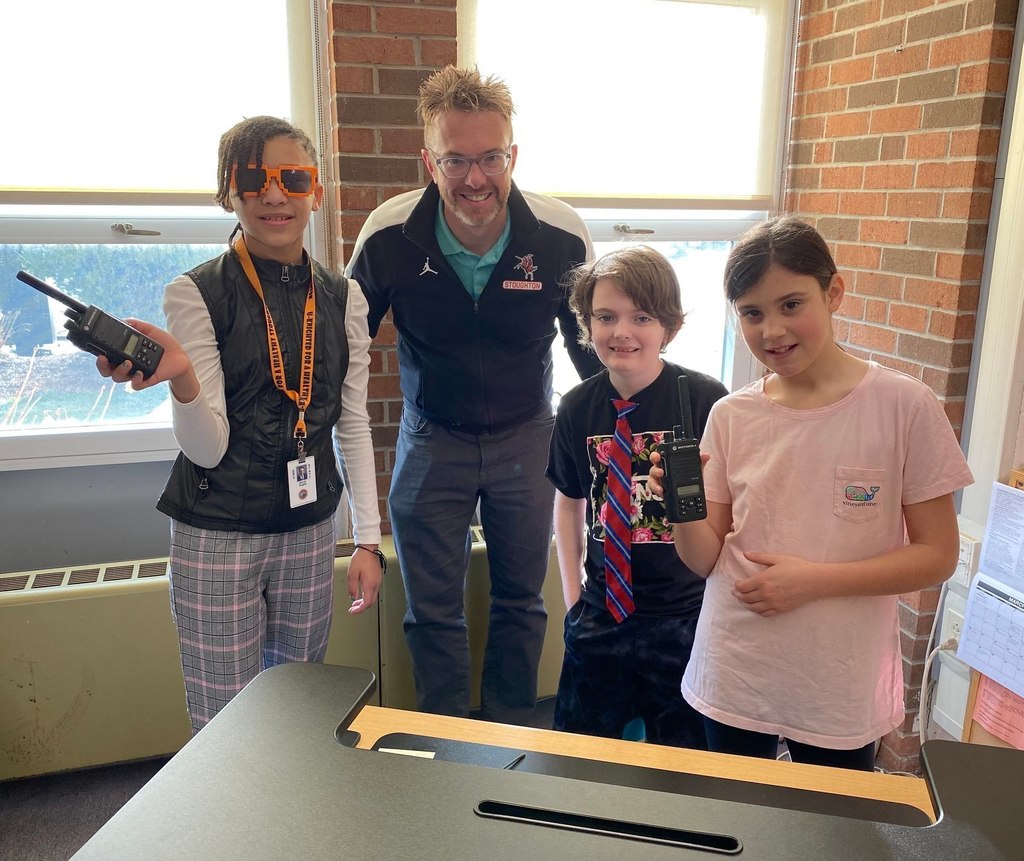 Stoughton High School hosted the Southeastern Massachusetts School Bandmaster Association (SEMSBA) Senior Festival this past weekend! High school students from across southeastern Massachusetts auditioned back in February and came together at Stoughton High School on March 18 & 19, rehearsing Friday afternoon and Saturday morning before performing for the public on Saturday afternoon. Five Stoughton High instrumental students were selected to participate! They are pictured here - Elijah Hochberg (tuba/SEMSBA Band), Celia Melo (trumpet/SEMSBA Band), Zachary Mandosa (trumpet/SEMSBA Orchestra), Terann Selman (bass clarinet/SEMSBA Band), and Emily Riker (French Horn/SEMSBA Band). Congratulations!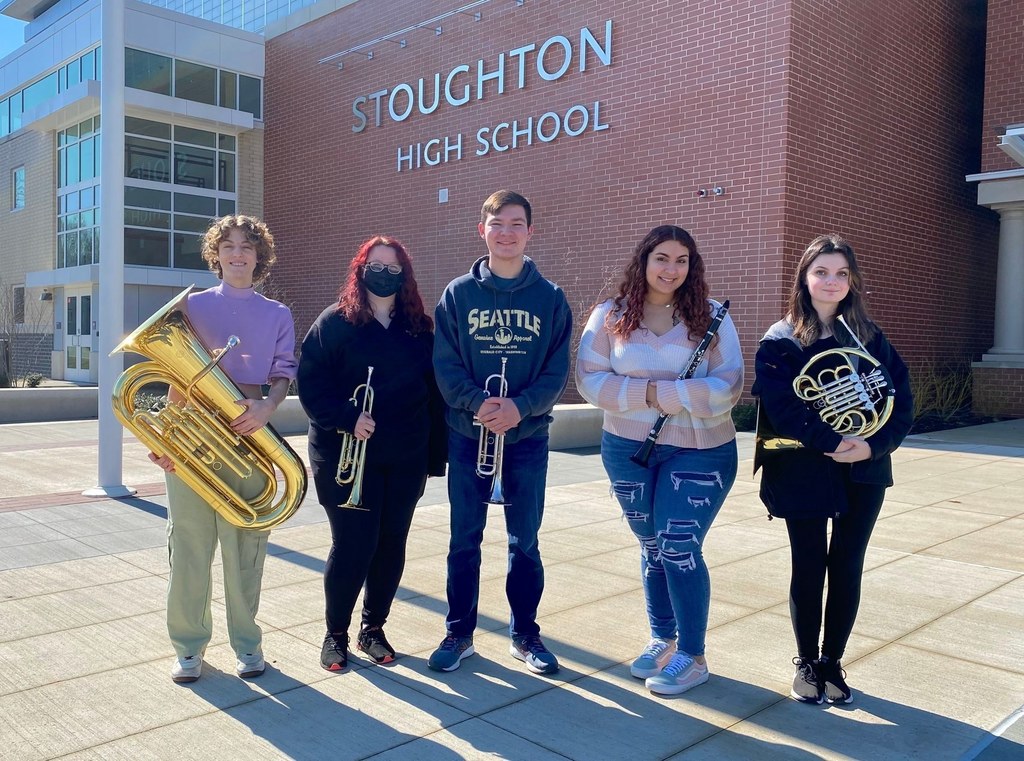 The Gibbons School had a Walk to School Day on March 18. Students, family members and staff met at Town Spa and walked to the Gibbons on what was a perfect day for a walk!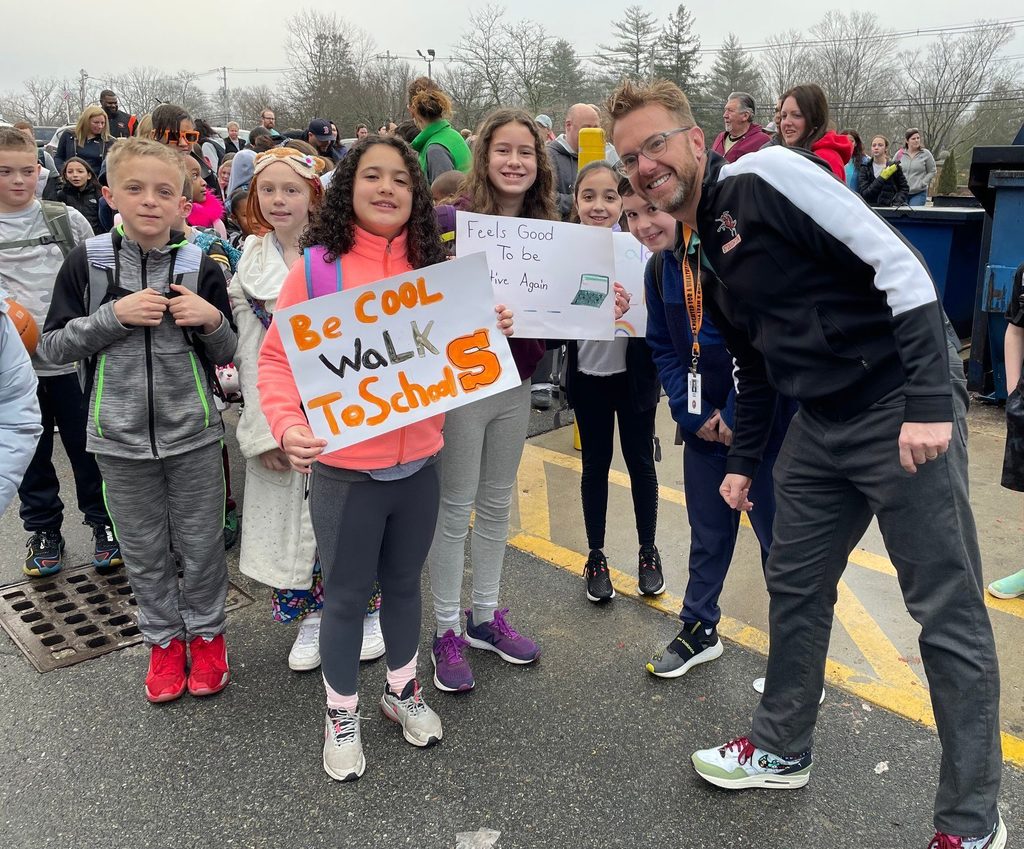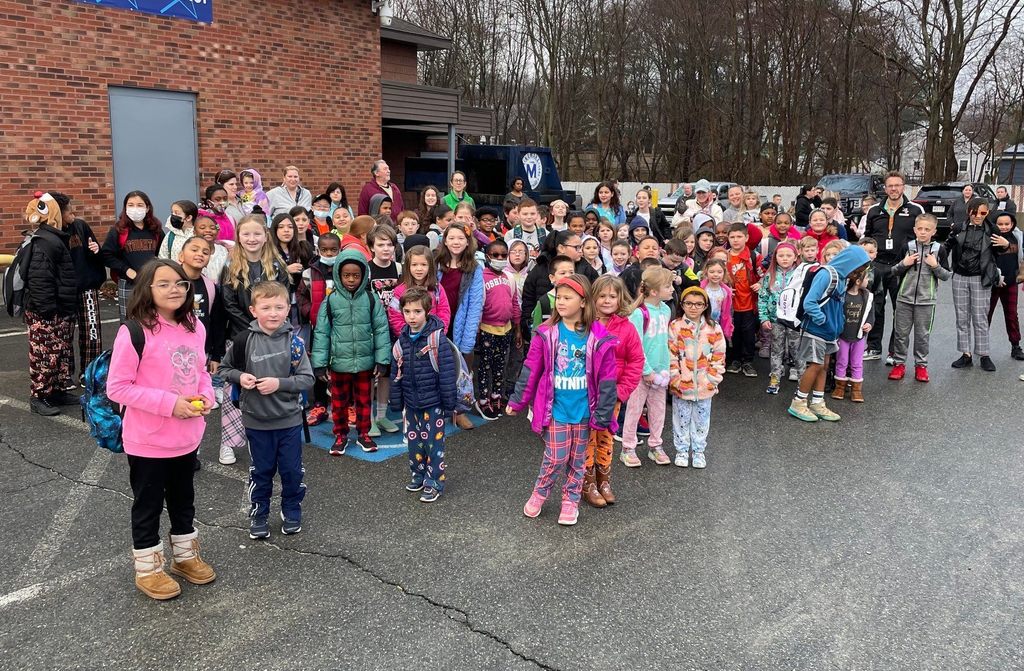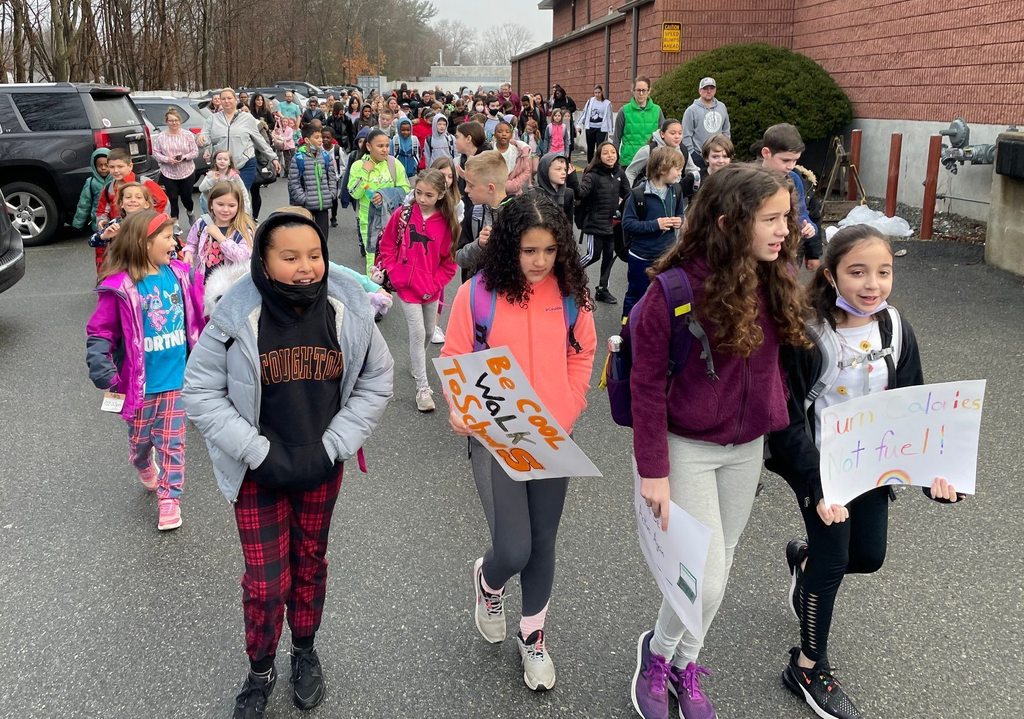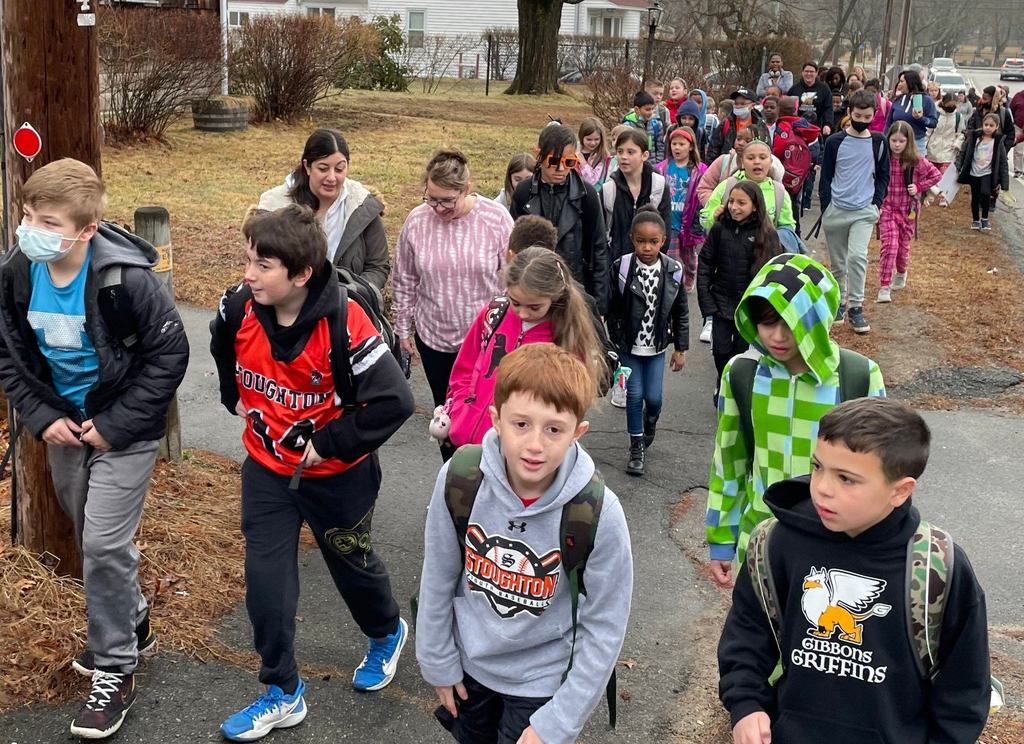 Seventh graders at the O'Donnell Middle School had their eggs from Casey Farm in Rhode Island delivered on March 14. Students in Mrs. Benitez's TLC class got a special presentation from Farmer Tom who introduced them to the Dominique and Rhode Island Red chickens that will be hatching in just 21 days (and even brought a live chicken for the presentation)! Throughout the next few weeks all seventh grade students will be learning about the genetics and growth and development of these organisms while the eggs are stored in an incubator getting ready to hatch!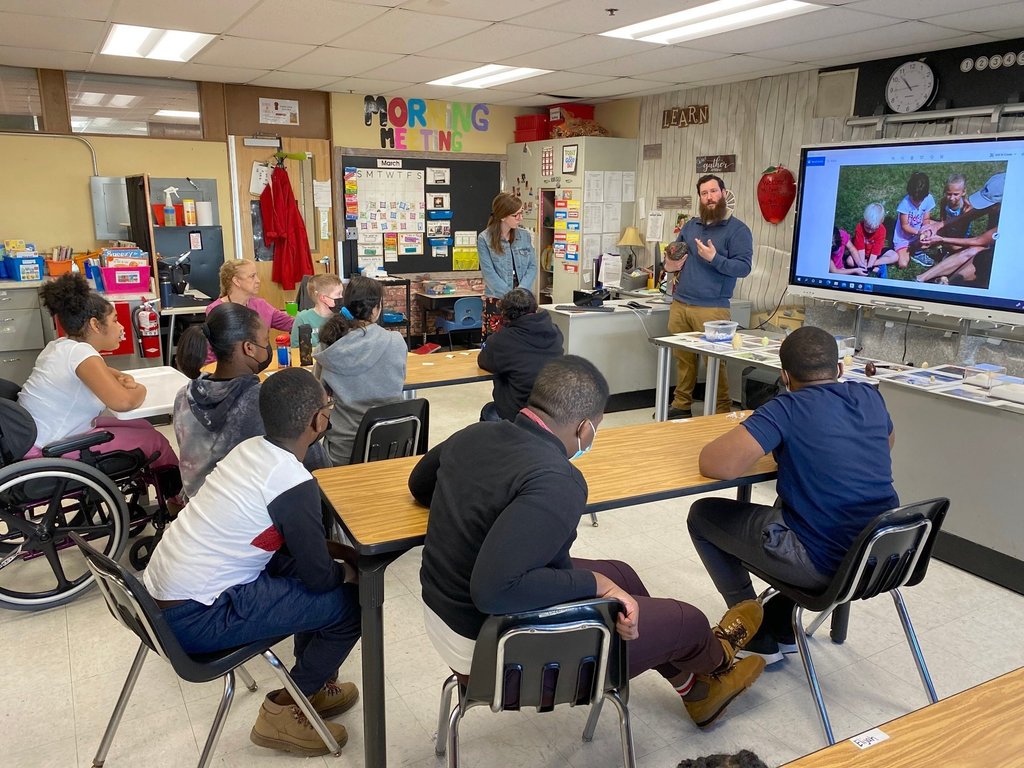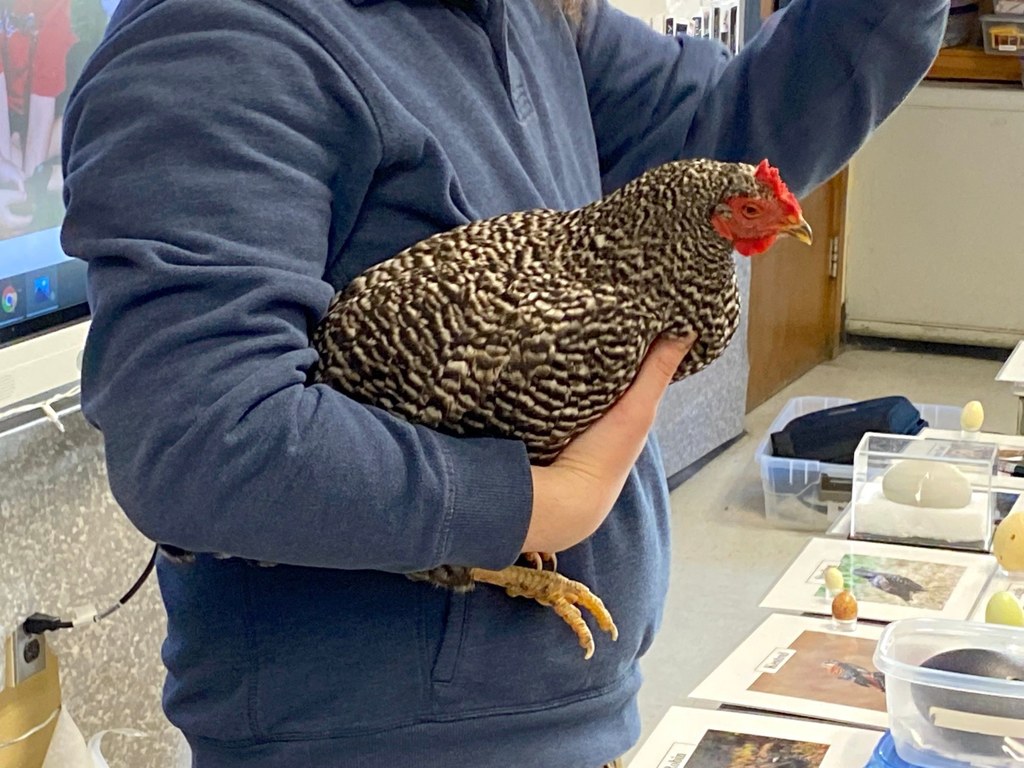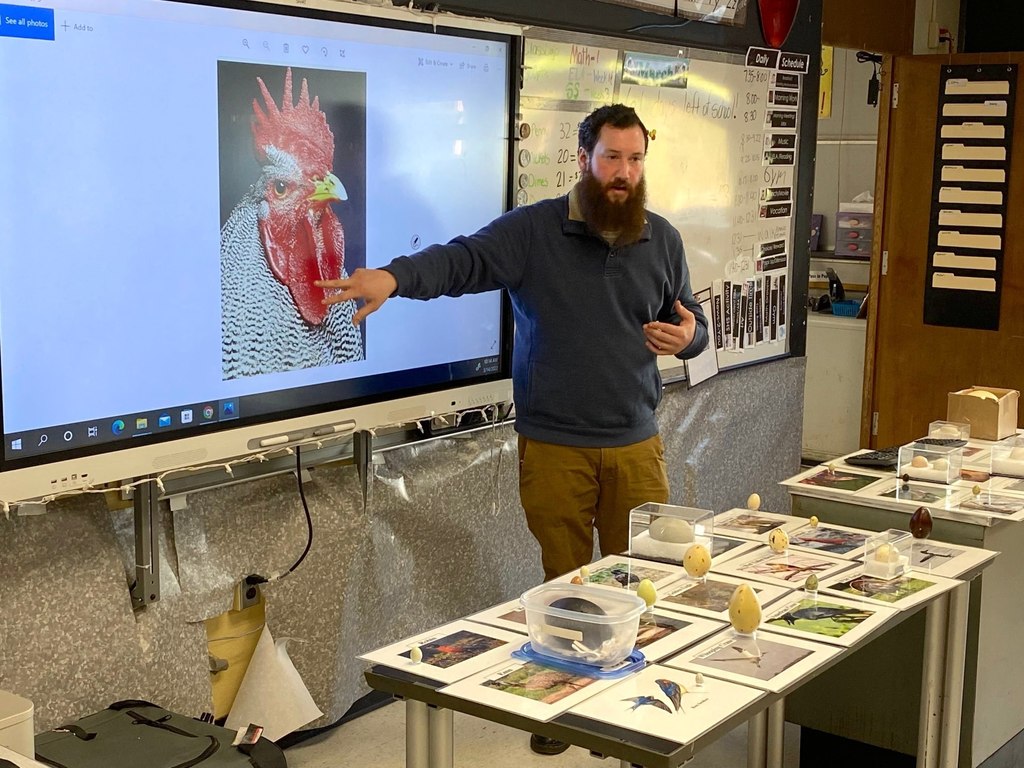 Two members of the ELPAC (English Learner Parent Advisory Council), Mrs. Previatti and Mrs. De Souza, recently came as guest readers to read classic folktales in Portuguese for March Book Madness at the Wilkins School. Our native Portuguese speakers loved hearing these stories in their home language and interpreting for their friends. Our native English speakers also appreciated hearing stories in another language, understanding how it must feel to learn a second language. This was a great literacy, multicultural and multilingual experience for all!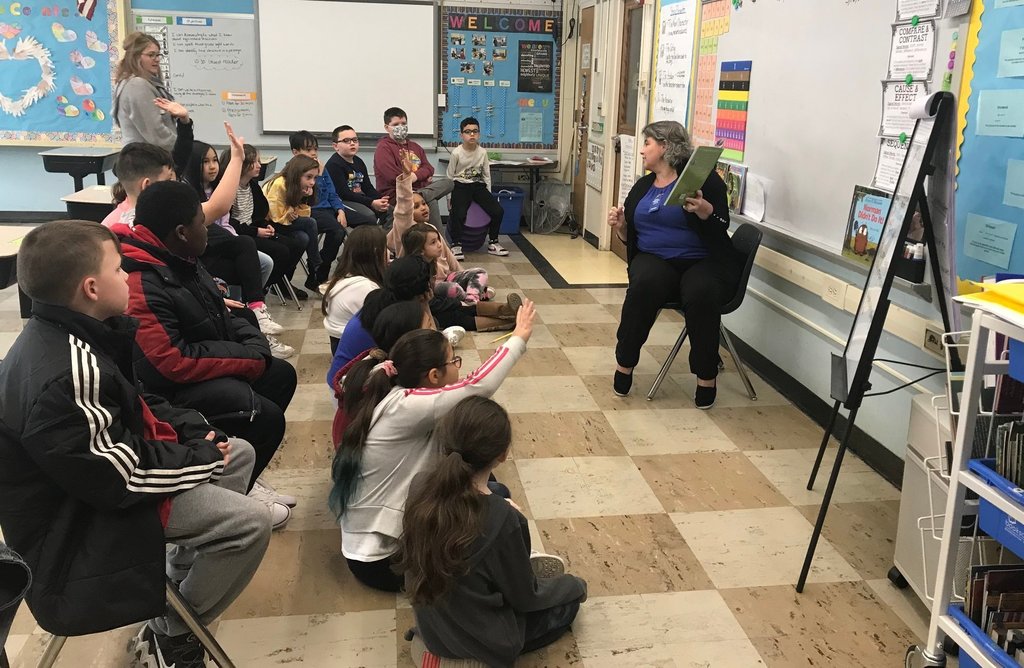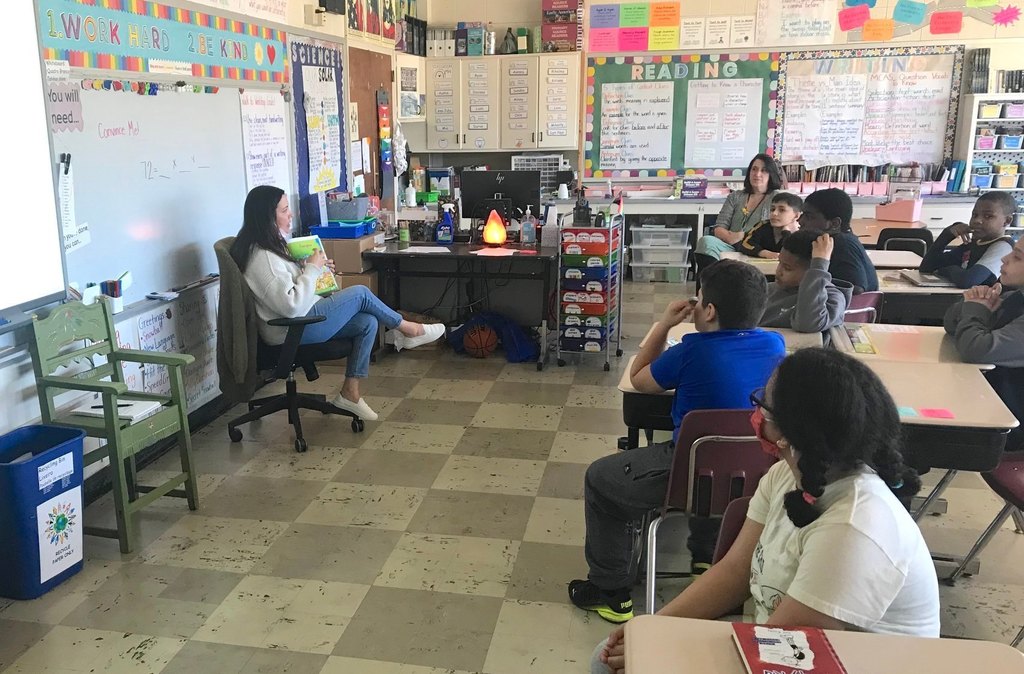 Stoughton Town Clerk Stephanie Carrara recently spoke to 4th grade students at the Dawe School. Carrara, a former Dawe School (North School) student, told students about her role as Town Clerk, including overseeing local, state and federal elections in Stoughton. She was the first guest speaker in a career-themed guest speaker series for Dawe 4th and 5th graders during their class in the learning commons.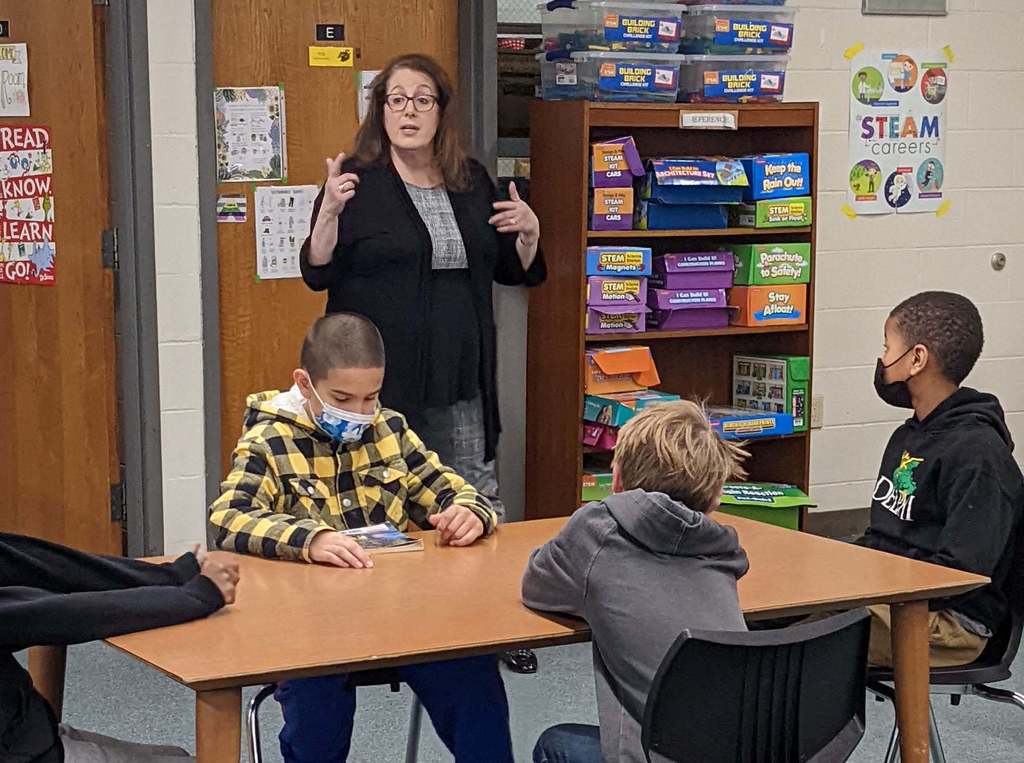 The cast and crew from the Stoughton High Theatre Program's production of Tracks traveled to Brockton High Saturday, March 19 to perform the one-act play at the Massachusetts Educational Theatre Guild Festival! Here are some photos from when the SHS Theatre Program performed Tracks at SHS earlier this month: facebook.com/752923291385797/posts/5343939865617427/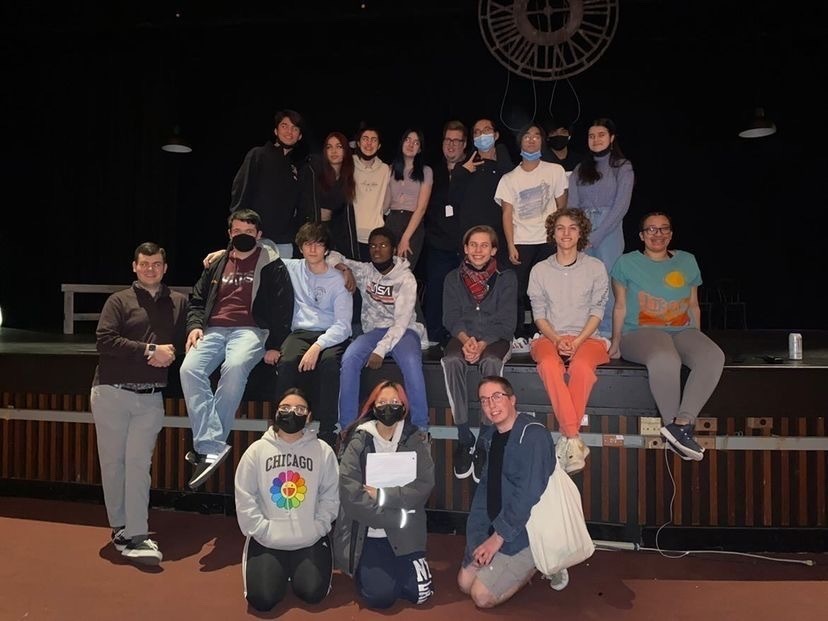 Stoughton High had 19 DECA students represent SHS at the DECA State Career Development Conference in Boston. All of the students who attended were able to network, build their public speaking abilities, and practice problem solving and critical thinking skills. "The 19 students that attended this trip were respectful, dedicated, and passionate about showing off their knowledge of business and 21st Century Skills," said Amanda Lydon, one of the SHS DECA advisors. The following students placed at the state conference: Lillianna Branco, Top 6 highest Test Score in Principles of Business Management & Administration; Stephanie Costeira, Top 6 in Retail Merchandising; Ji-Na Kimb, Top 6 in Principles of Finance. Stephanie and Ji-Na are both eligible for the International DECA Competition! Congratulations!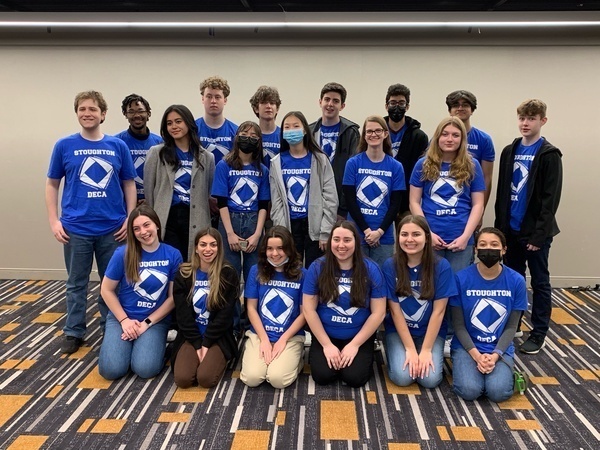 Here is a look at a recent band practice at the South School!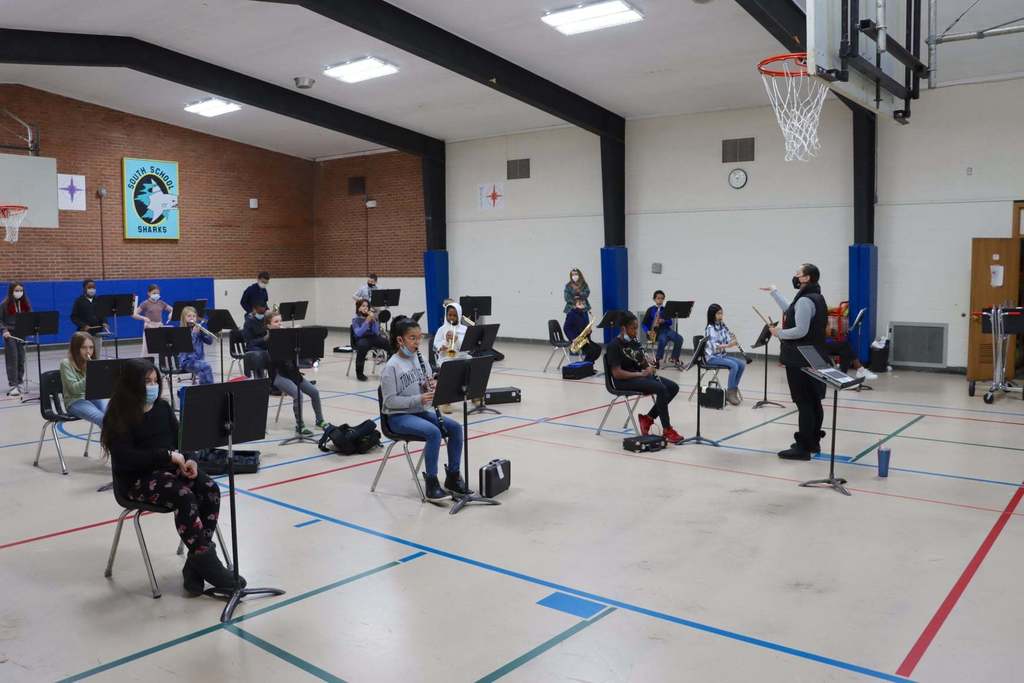 Be the reason someone smiles! This display, seen at the Gibbons School, features first grade students at the Gibbons. What a great message!

Dawe School students have been working with clay in art class. Check out some examples here!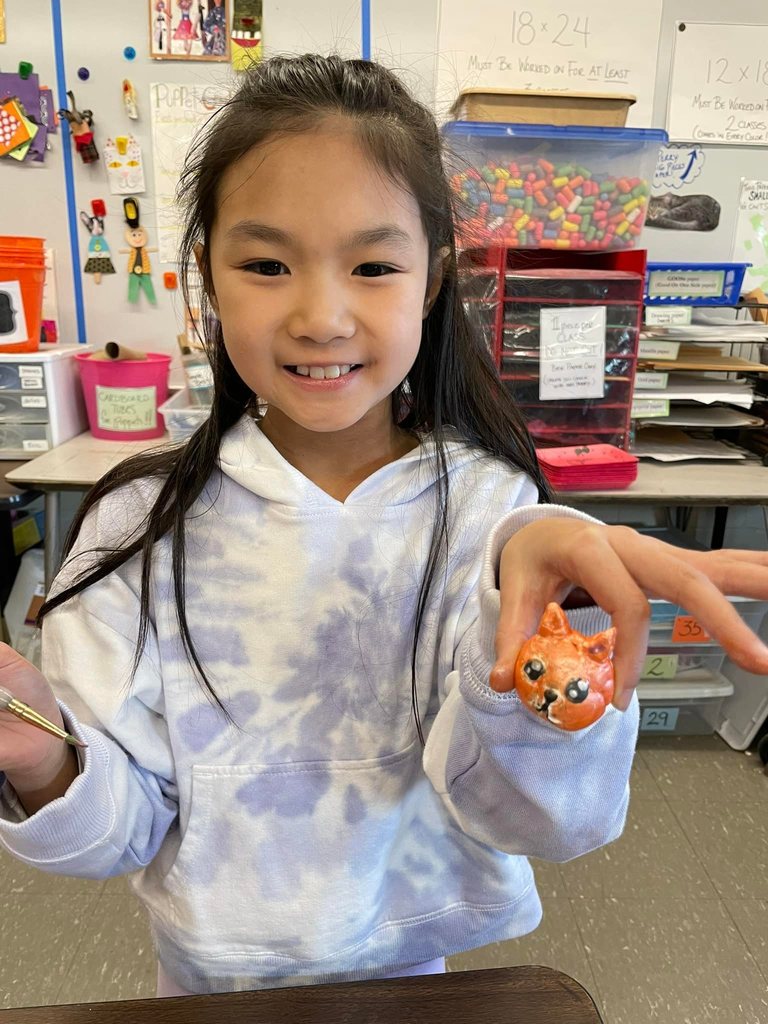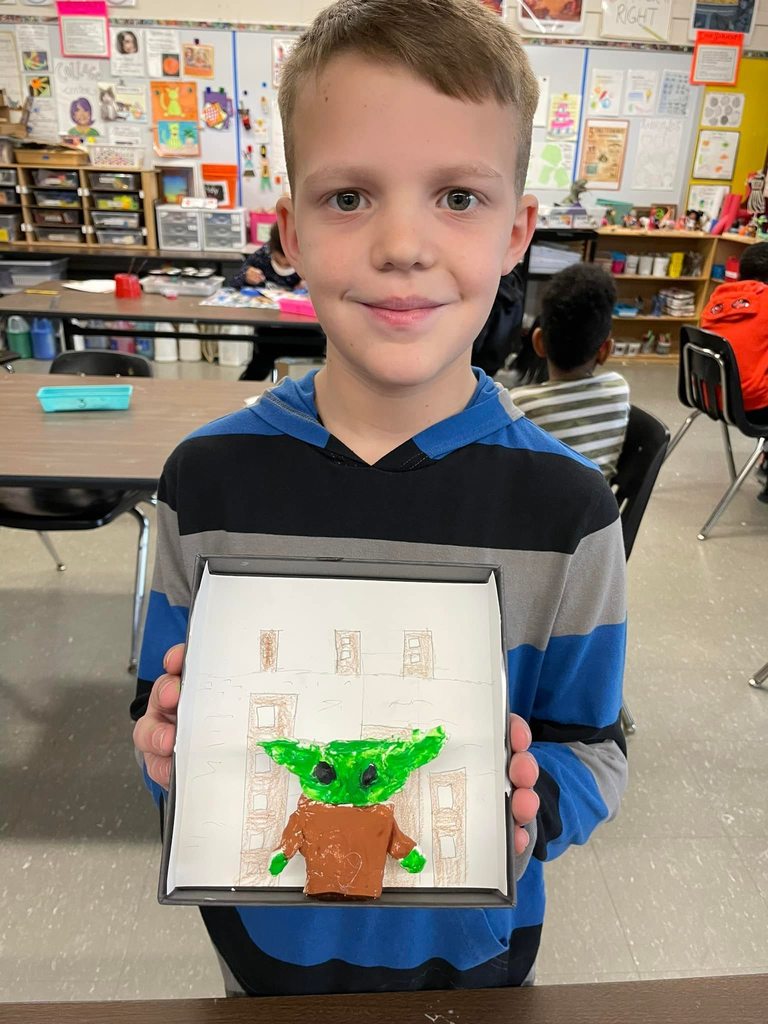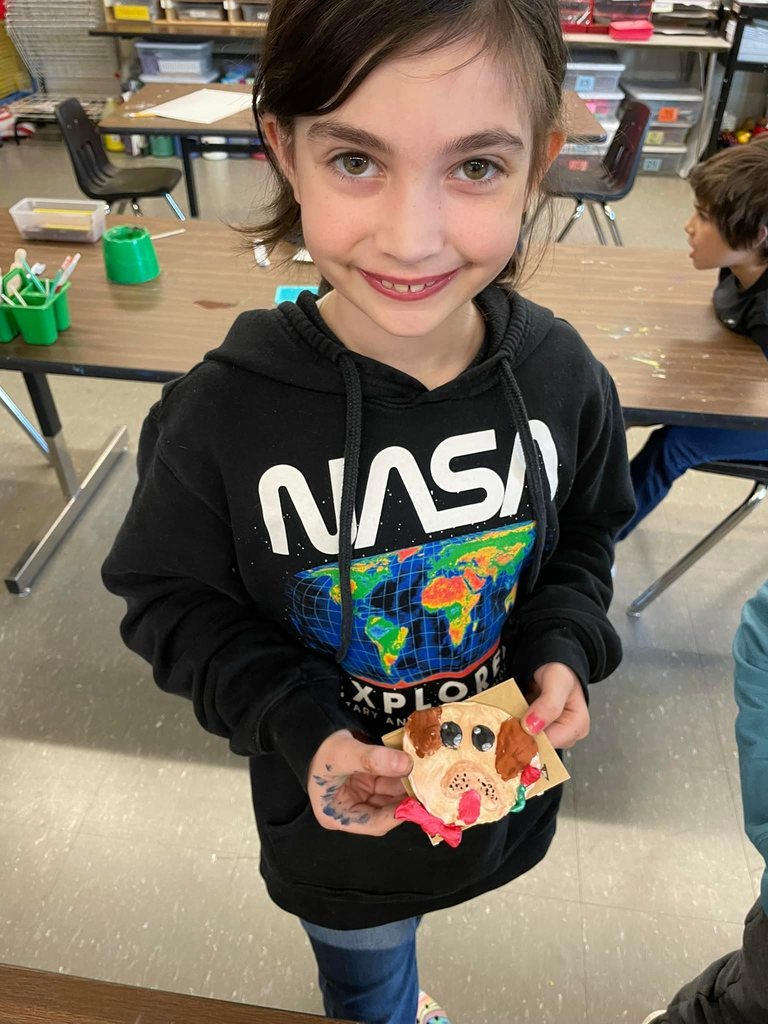 The O'Donnell Middle School celebrated Pi Day on March 14 with students and teachers wearing Pi or math-related shirts! March 14 is known as Pi Day since the first three digits of Pi (π) are 3.14. March 14 is also Albert Einstein's birthday...check out OMS Principal Matt Colantonio's awesome Einstein tie (last picture)!