Stoughton Town Clerk Stephanie Carrara recently spoke to 4th grade students at the Dawe School. Carrara, a former Dawe School (North School) student, told students about her role as Town Clerk, including overseeing local, state and federal elections in Stoughton. She was the first guest speaker in a career-themed guest speaker series for Dawe 4th and 5th graders during their class in the learning commons.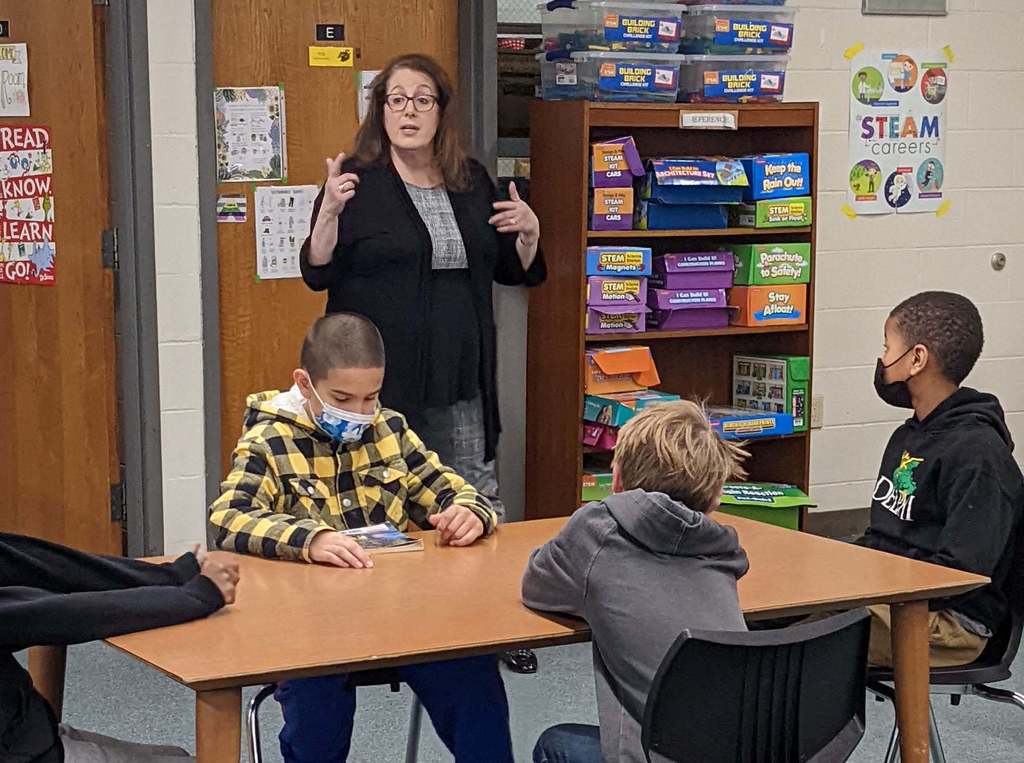 The cast and crew from the Stoughton High Theatre Program's production of Tracks traveled to Brockton High Saturday, March 19 to perform the one-act play at the Massachusetts Educational Theatre Guild Festival! Here are some photos from when the SHS Theatre Program performed Tracks at SHS earlier this month: facebook.com/752923291385797/posts/5343939865617427/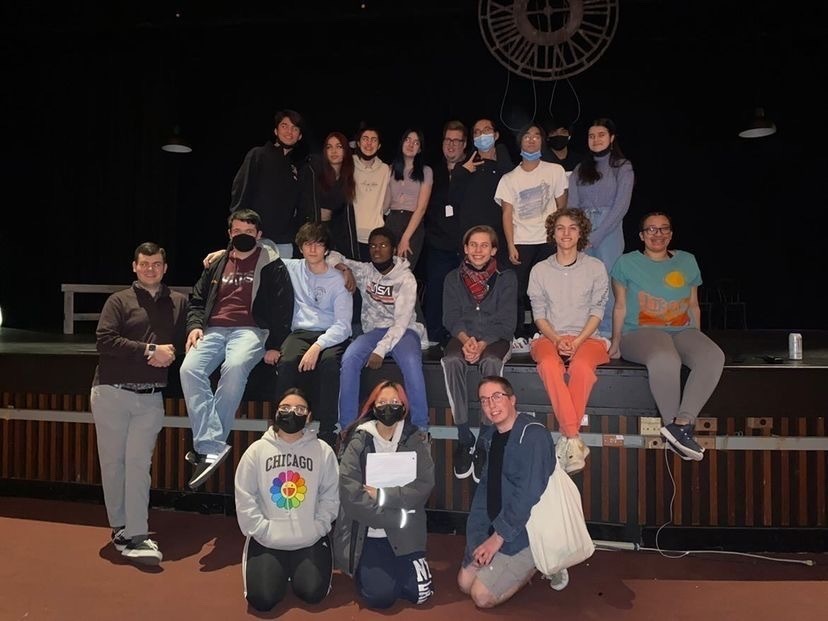 Stoughton High had 19 DECA students represent SHS at the DECA State Career Development Conference in Boston. All of the students who attended were able to network, build their public speaking abilities, and practice problem solving and critical thinking skills. "The 19 students that attended this trip were respectful, dedicated, and passionate about showing off their knowledge of business and 21st Century Skills," said Amanda Lydon, one of the SHS DECA advisors. The following students placed at the state conference: Lillianna Branco, Top 6 highest Test Score in Principles of Business Management & Administration; Stephanie Costeira, Top 6 in Retail Merchandising; Ji-Na Kimb, Top 6 in Principles of Finance. Stephanie and Ji-Na are both eligible for the International DECA Competition! Congratulations!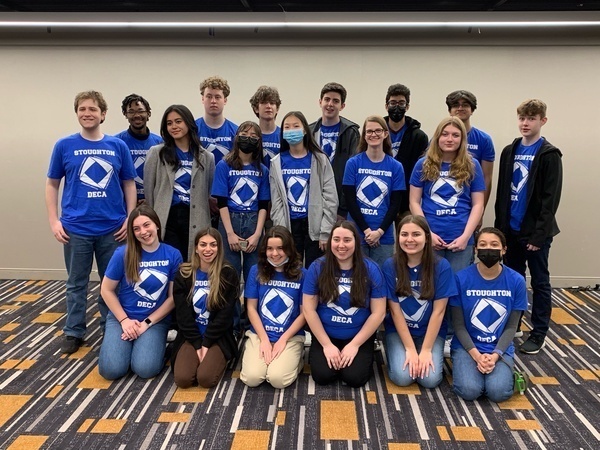 Here is a look at a recent band practice at the South School!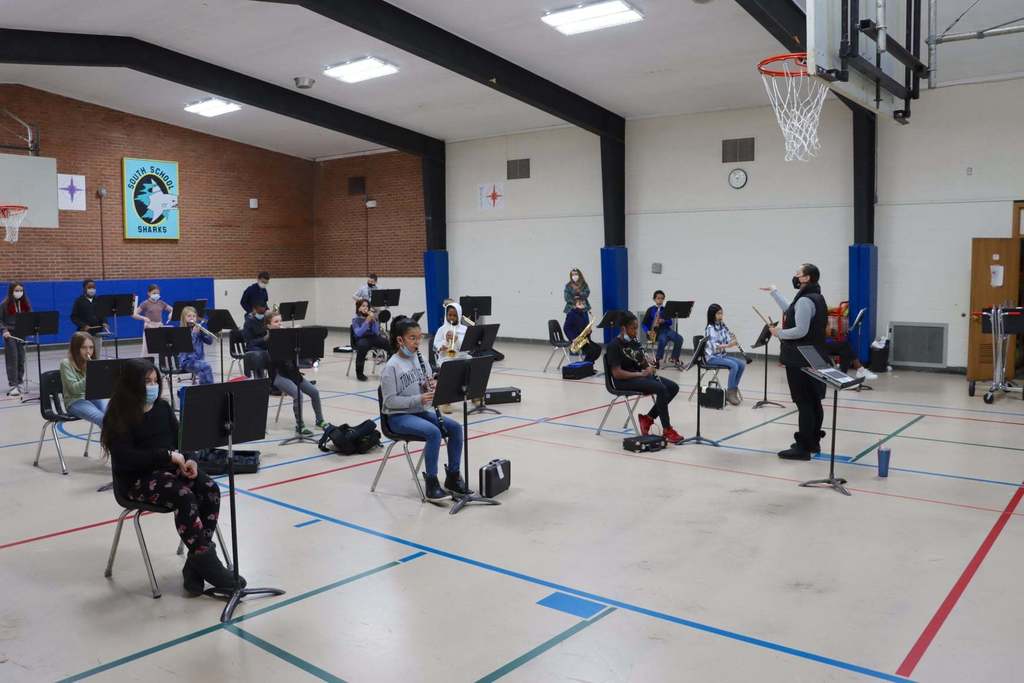 Be the reason someone smiles! This display, seen at the Gibbons School, features first grade students at the Gibbons. What a great message!

Dawe School students have been working with clay in art class. Check out some examples here!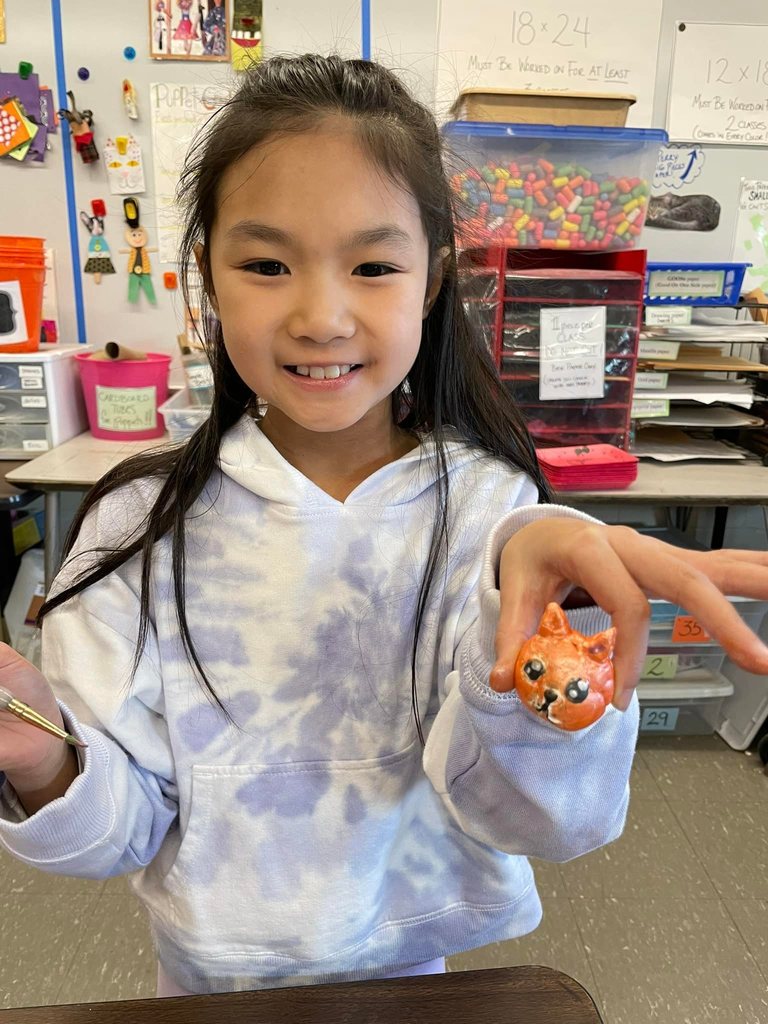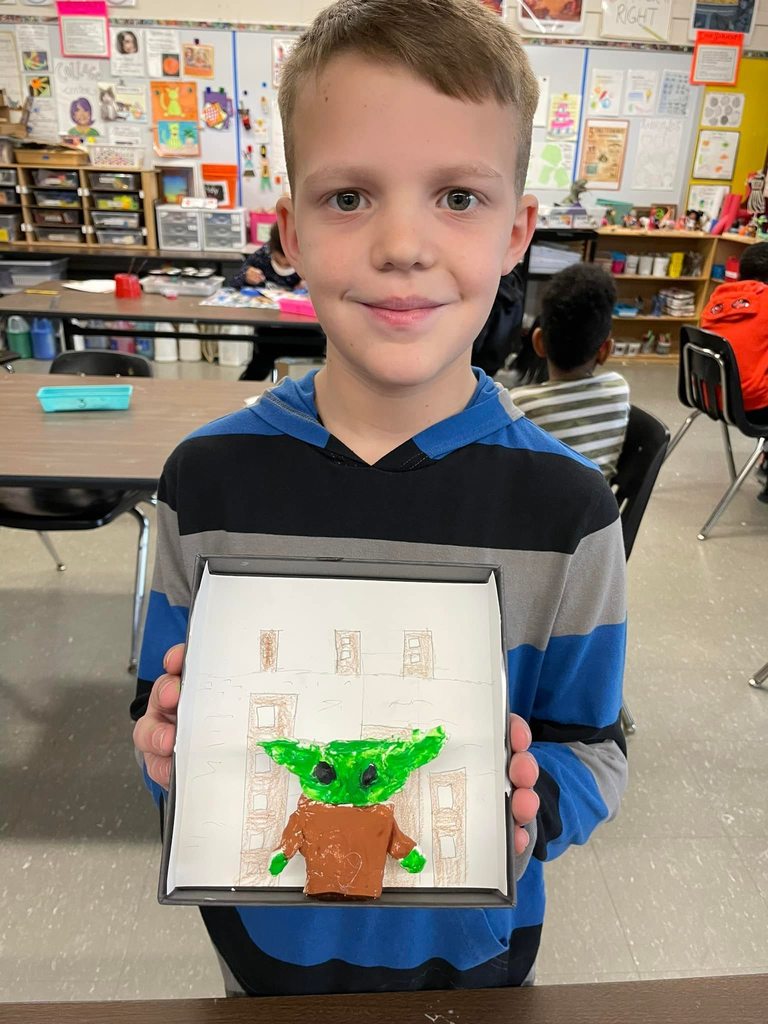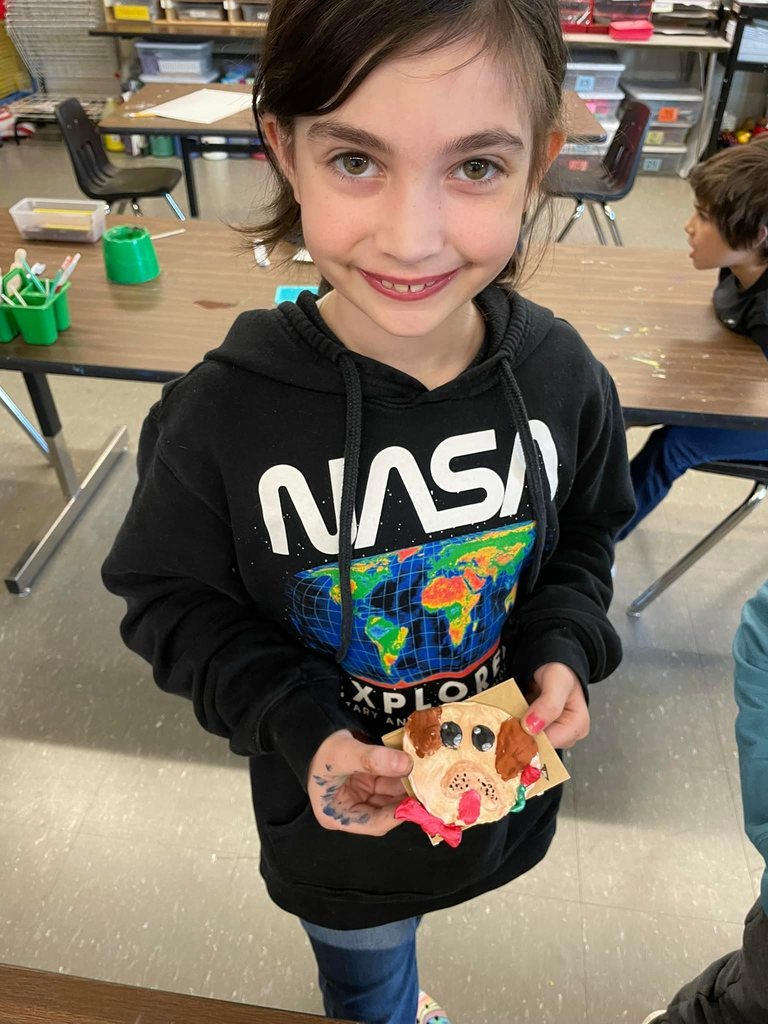 The O'Donnell Middle School celebrated Pi Day on March 14 with students and teachers wearing Pi or math-related shirts! March 14 is known as Pi Day since the first three digits of Pi (π) are 3.14. March 14 is also Albert Einstein's birthday...check out OMS Principal Matt Colantonio's awesome Einstein tie (last picture)!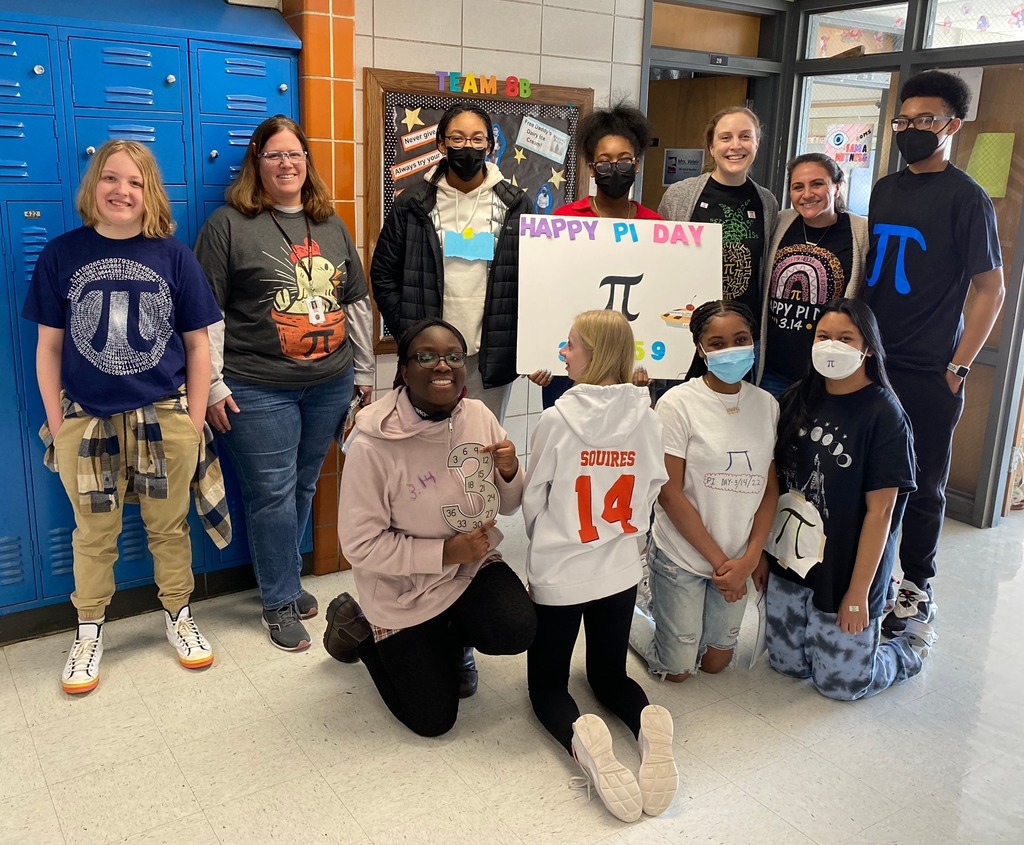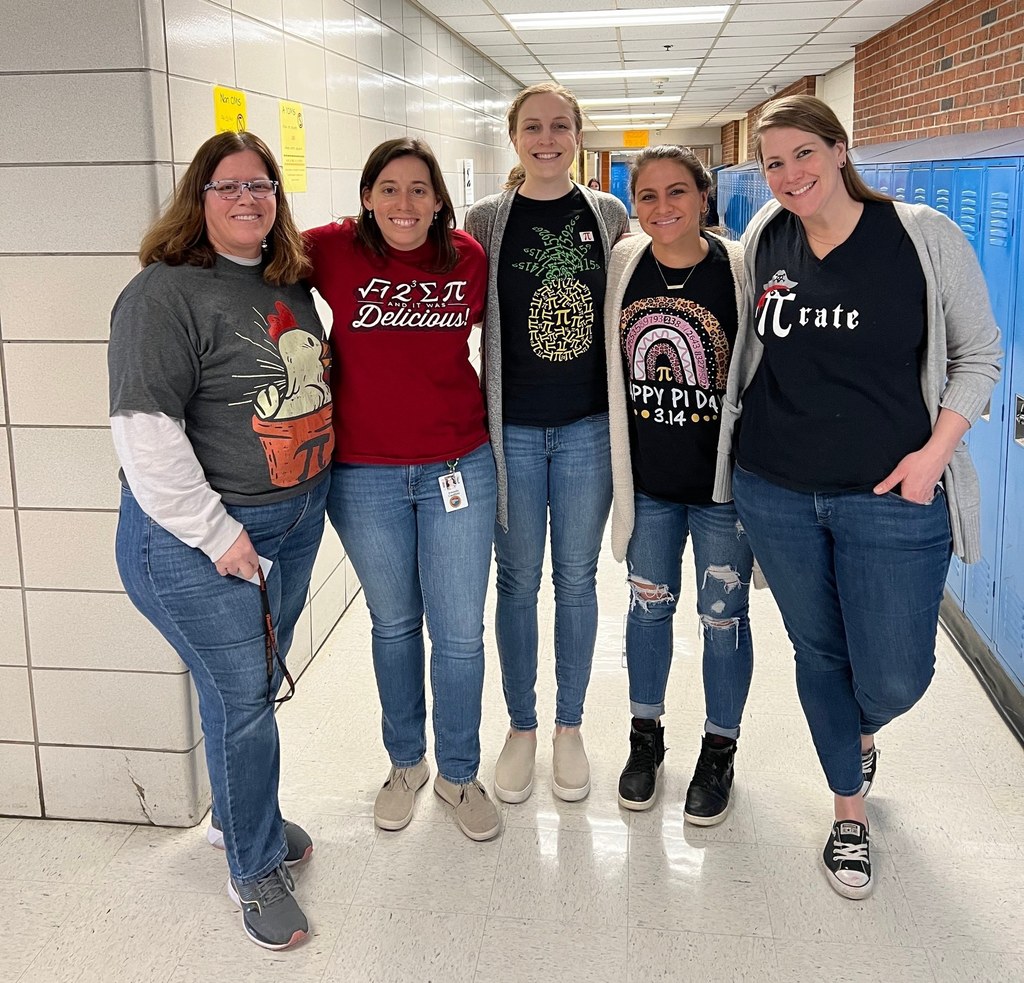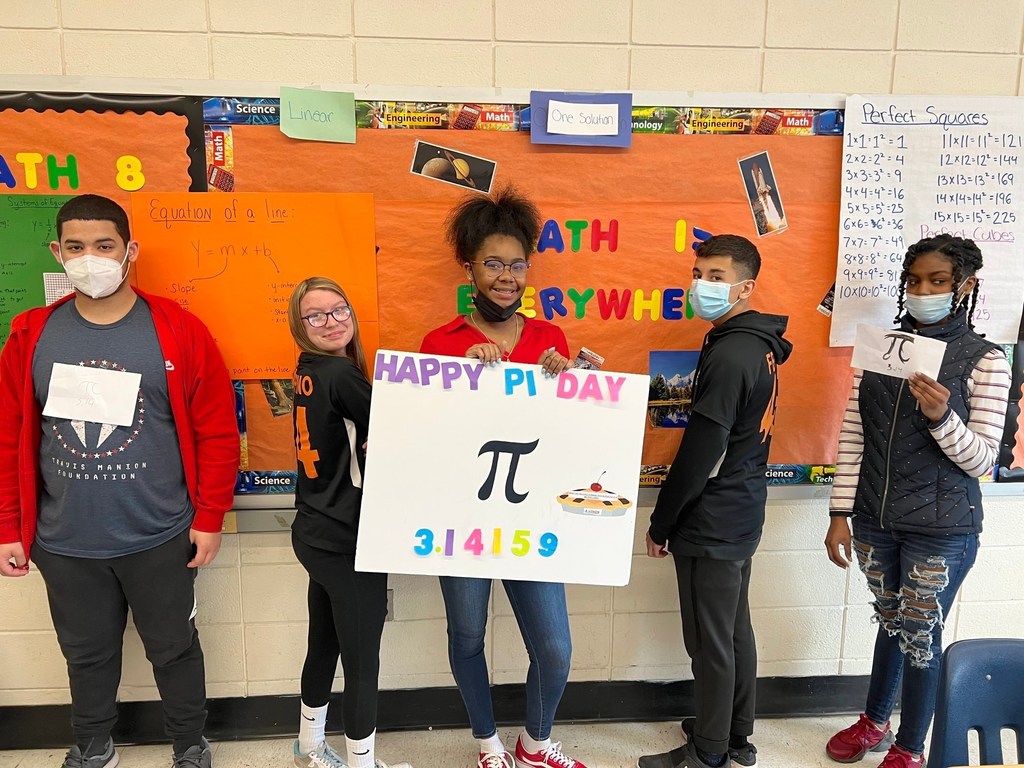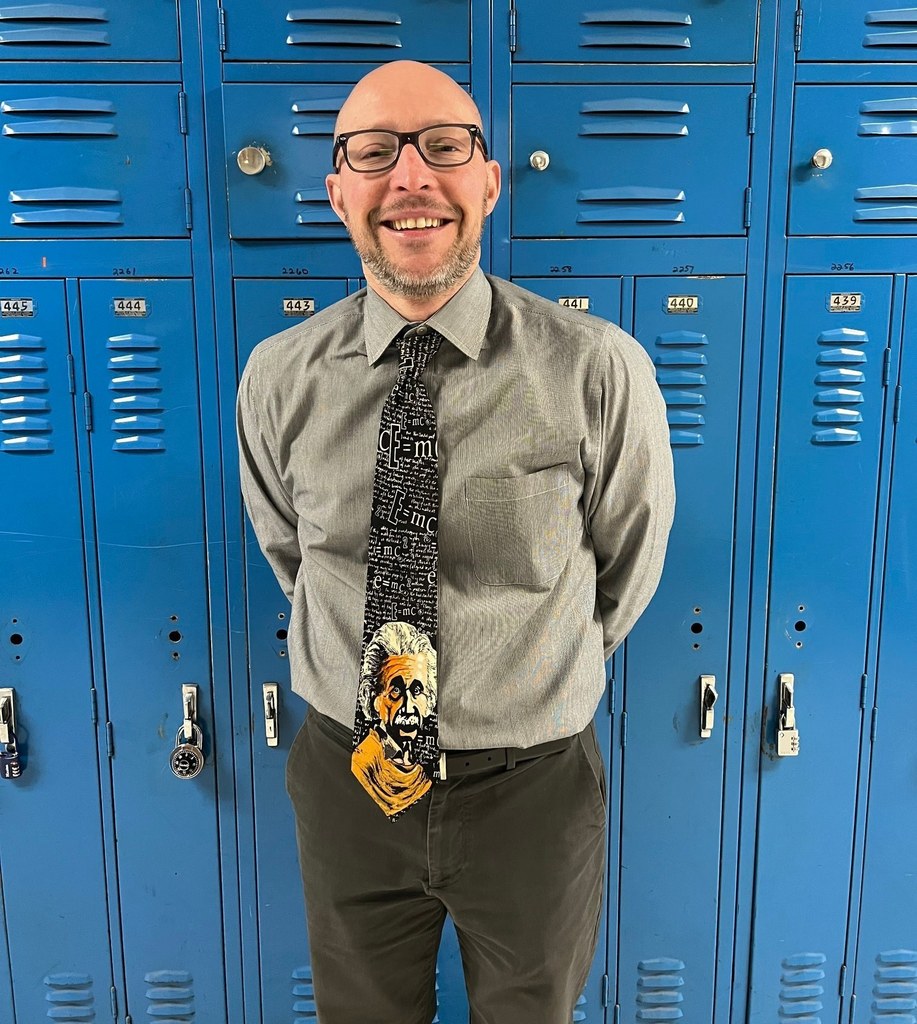 Kindergarten students at the Wilkins School wrapped up their "Super Readers" Reader's Workshop unit by making superhero masks! These super readers now have many superpowers to help them read!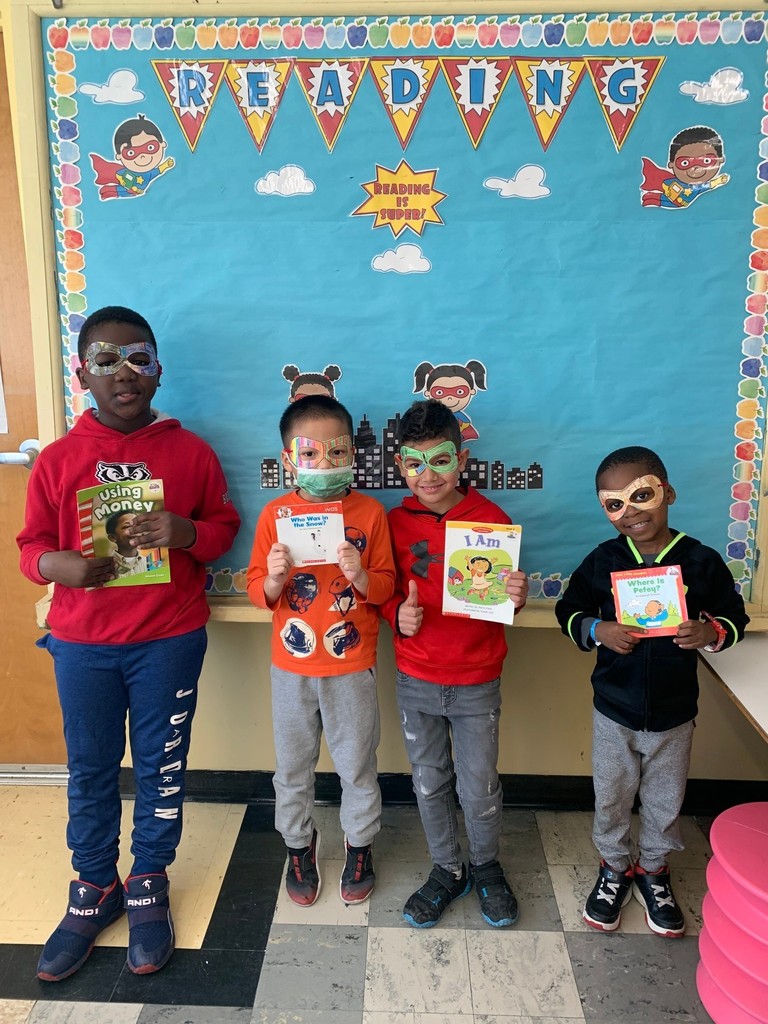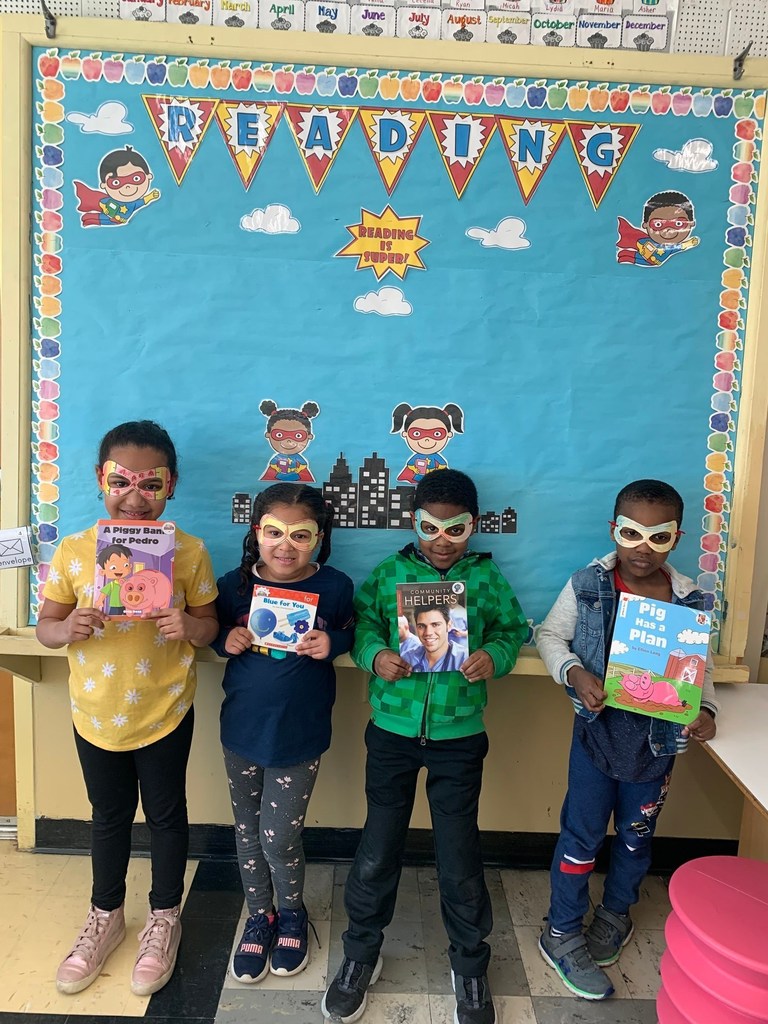 Students in the Therapeutic Learning Center (TLC) program at Stoughton High went on a tour of the Stoughton Fire Station earlier in March. Thank you SFD Lieutenant Justin Goldberg for being a great tour guide!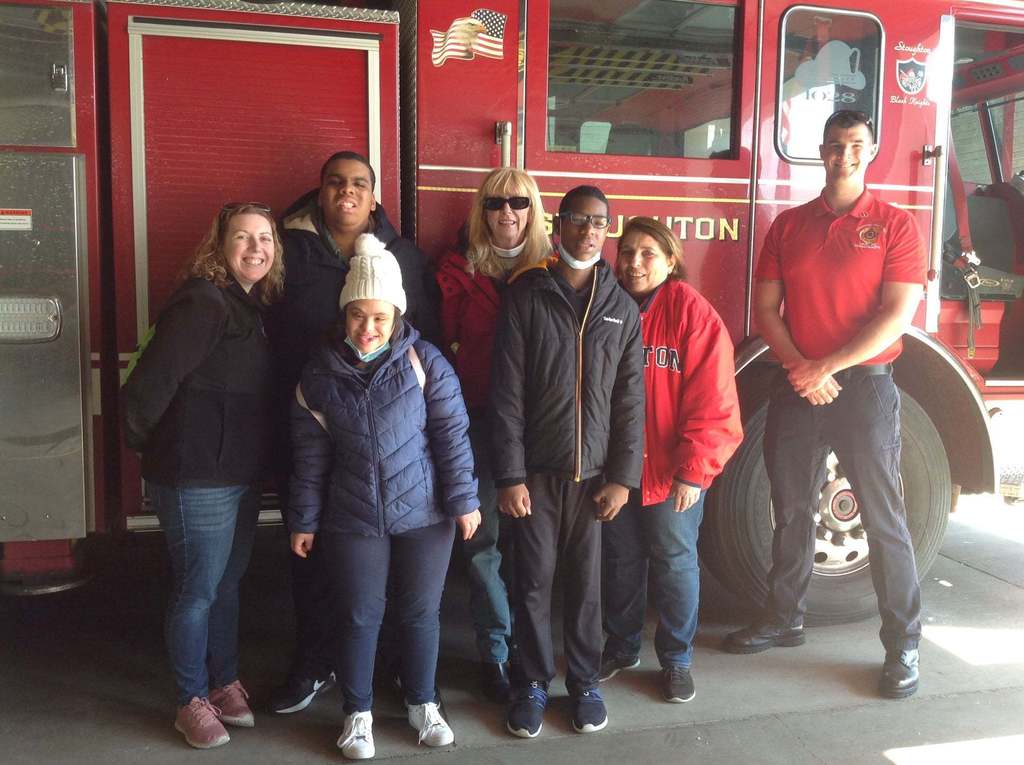 Congratulations to the winners of the Stoughton Talent Showcase! The Stoughton Talent Showcase was held Friday night at the SHS auditorium. It was an entertaining night showing off the amazing talents of our own Stoughton Public Schools students with 21 acts split between three divisions - elementary school, middle school, and high school. The judges did not have an easy task deciding on the winners! Elementary Division winners: 1st place - Nika Musatov, Raquelle Kramer & Maris Stewart (Hansen/dancing), 2nd place - Nakiah Penny (Wilkins/singing & playing piano), 3rd place - Thomas Carpinella (Gibbons/dancing)...Middle School Division winners: 1st place - Travis Remy (OMS/piano), 2nd place - Kostas Giatrakos (OMS/dancing), 3rd place - Max Arroyo (OMS/dancing)...High School Division winners: 1st place - Remi Sylla (SHS/singing & playing piano), 2nd place - Daniel Sullivan (SHS/dancing), 3rd place - Andy Carlson (SHS/guitar). The first photo is of the first place winners in each division, followed by photos of the students who placed in the elementary division, middle school division, and high school division.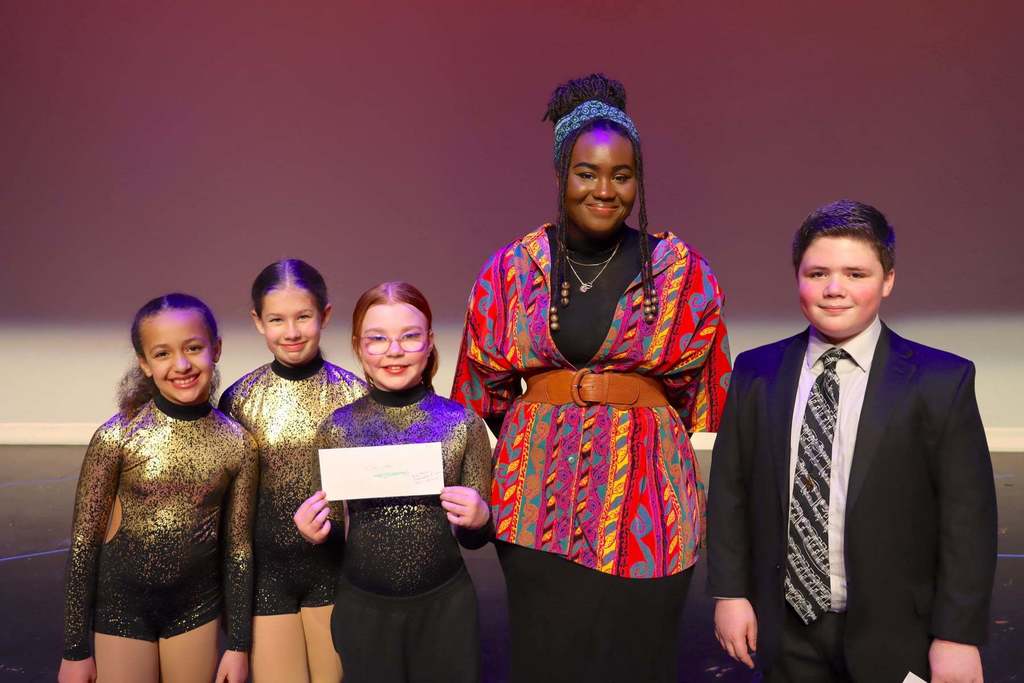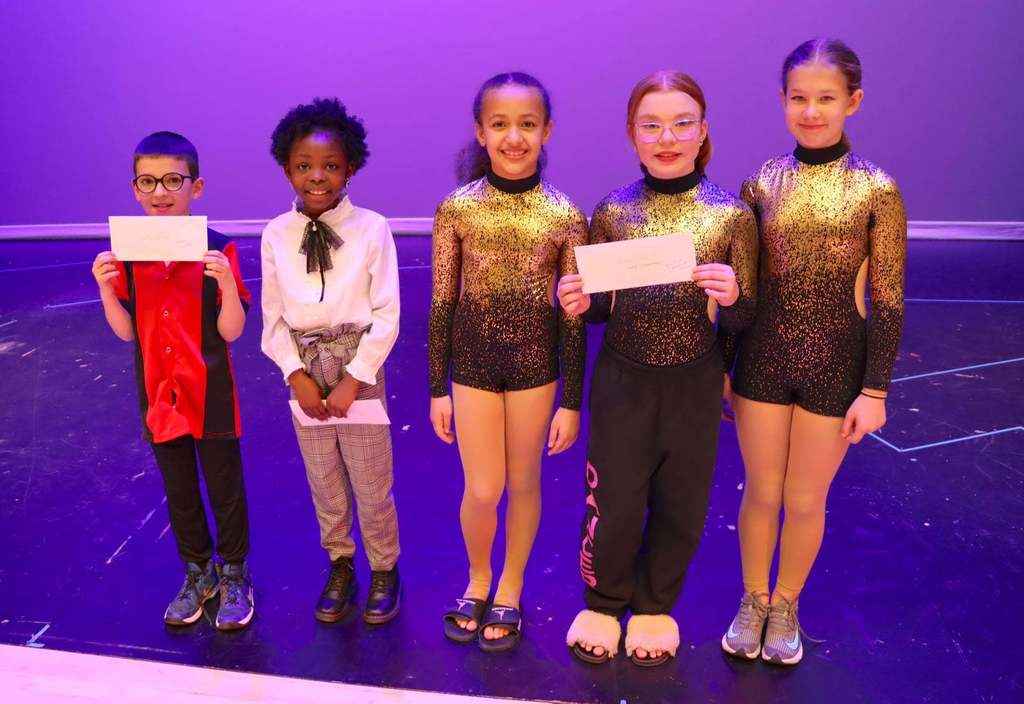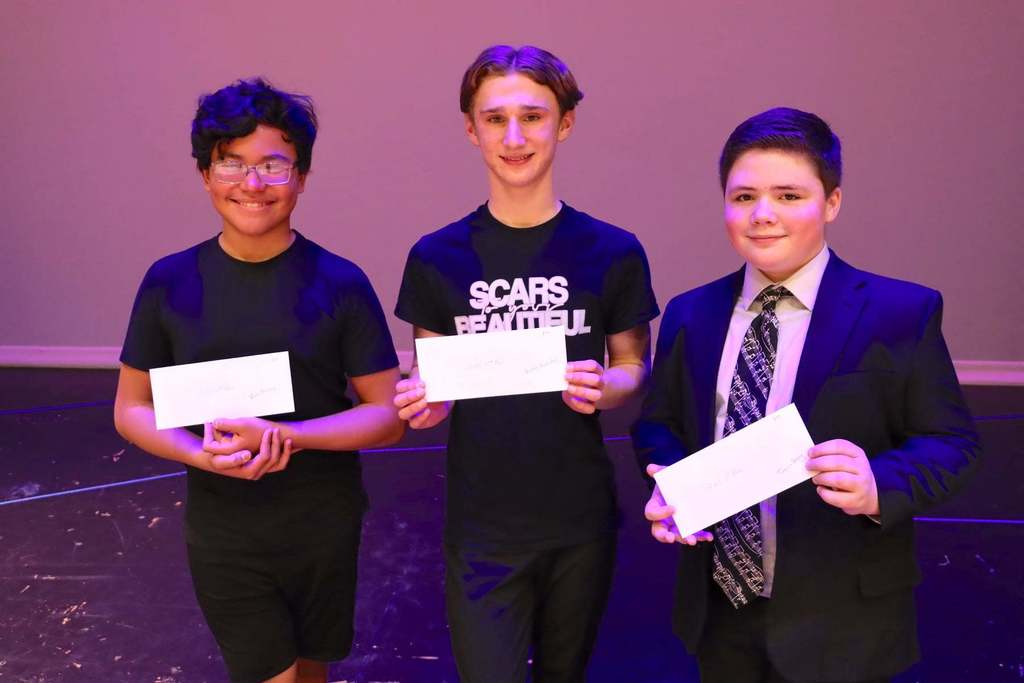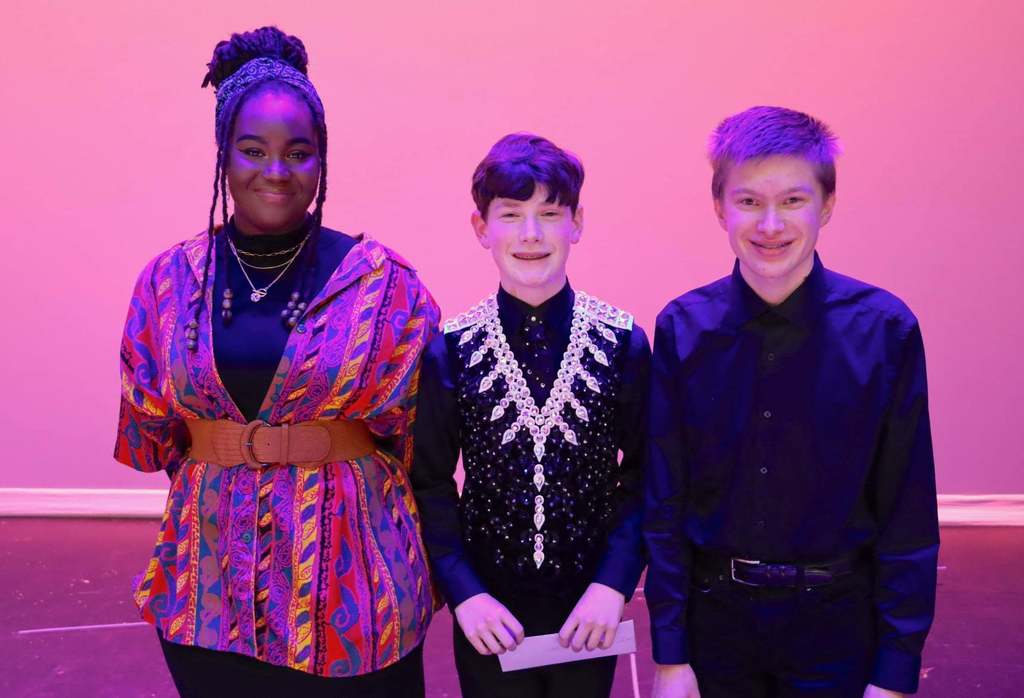 Dawe School 4th graders had a great time on their field trip to the Museum of Science in Boston earlier this week! Take a look at some pictures here!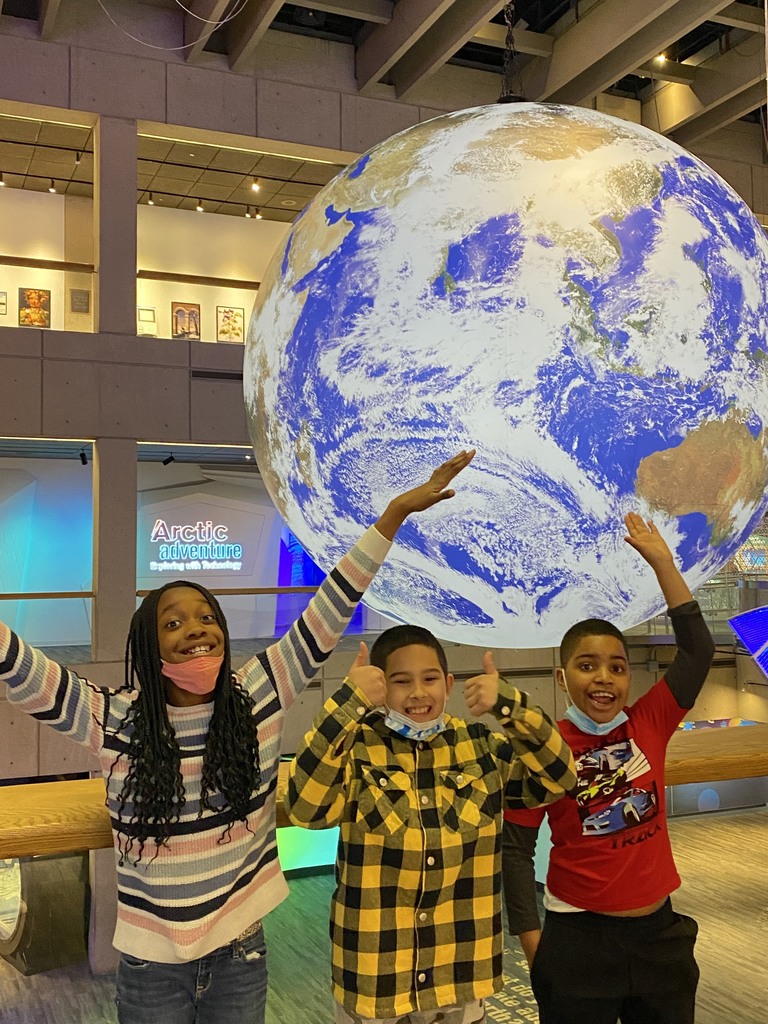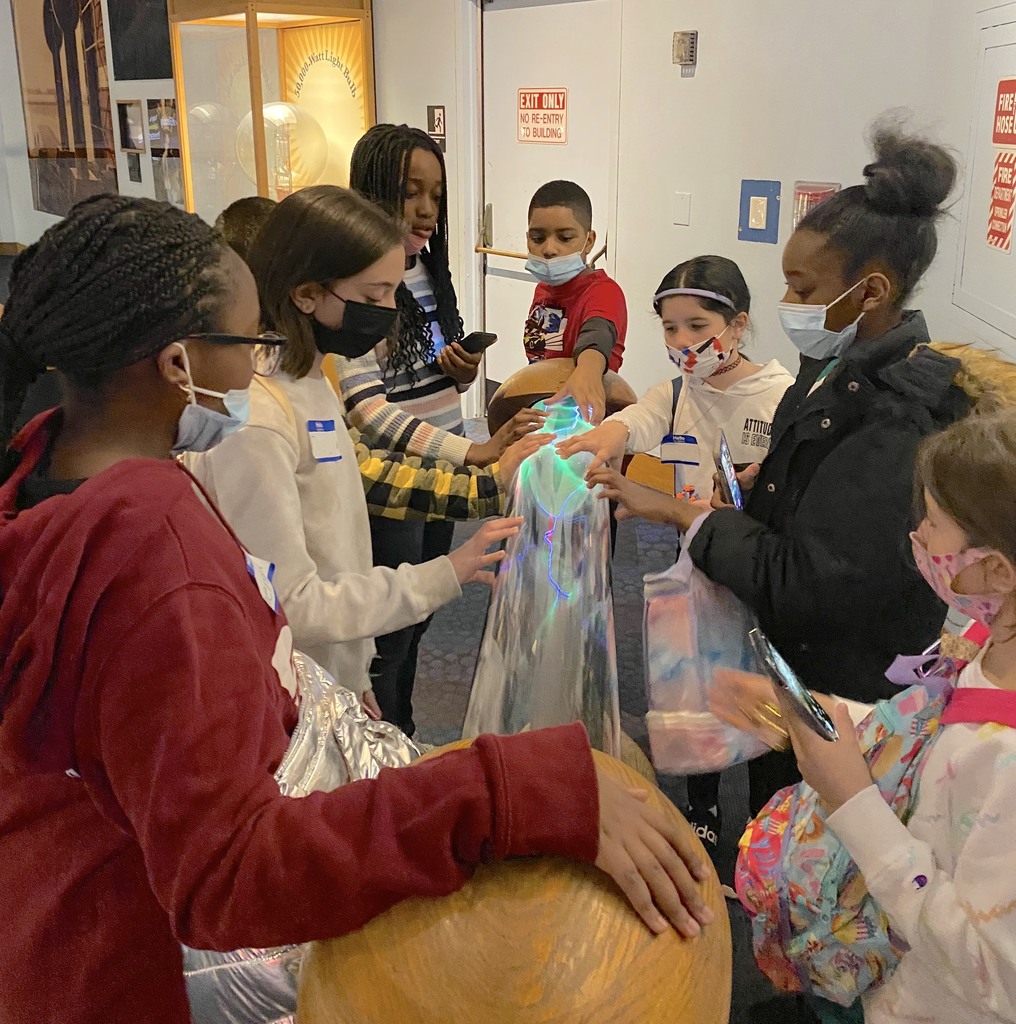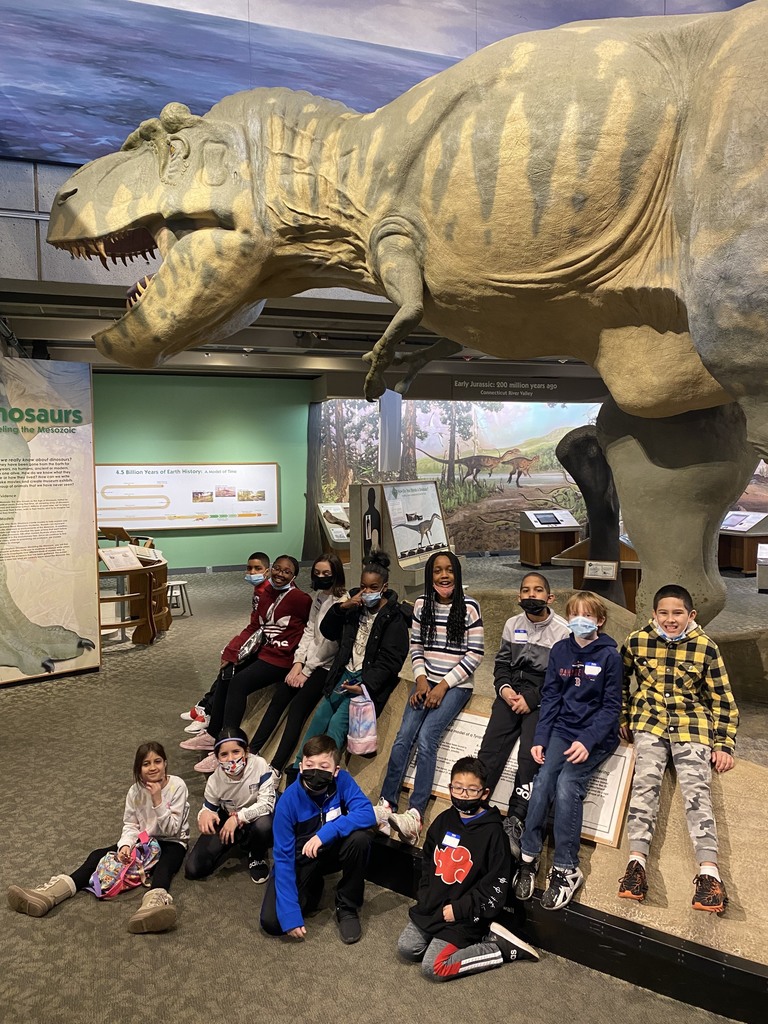 Stoughton High recently partnered with the Stoughton Public Library to help SHS students get library cards. Here is a picture of some of the students who took advantage of this great opportunity, posing with their new library cards!

Members of the Stoughton Fire Department have been visiting our elementary schools for fire safety assemblies. Here are a few pictures of SFD Firefighter Jack Hussey's visit to the Wilkins School earlier this week! Thank you to the Stoughton Fire Department for taking the time to share important lessons and tips with our students!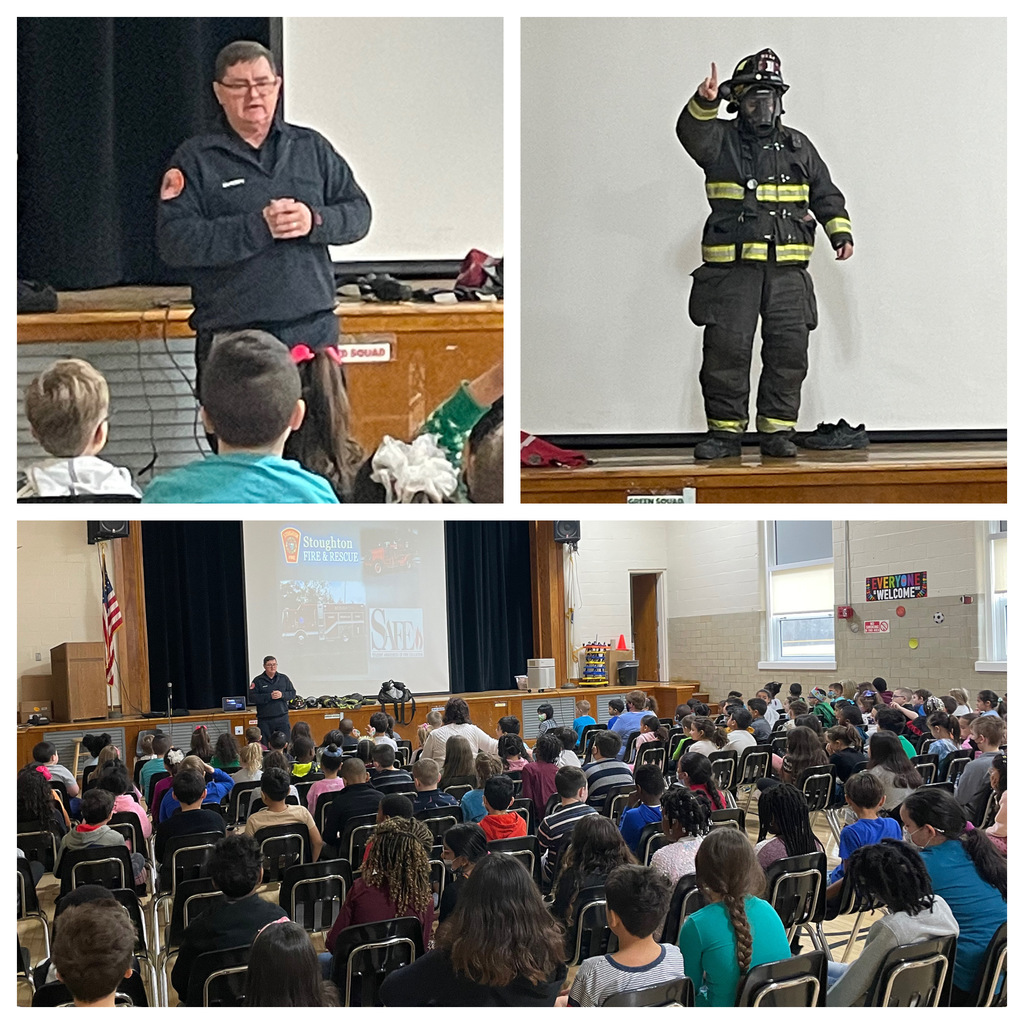 Check out photos from the SHS Theatre Program's production of Tracks from this past weekend! The play took place in the Black Box Theater at Stoughton High, a simple, yet unique space that gives the audience a chance to be up close to the actors. Tracks is a one-act play about a group of strangers meeting in a dirty subway station. They have arrived with limited personal belongings, their watches have stopped and they all claim to be in different cities. Soon they learn there is no way out of the station, and the unfortunate truth is told to them - they are all dead. Since subway stations have two sides, they reason the train leaving from one platform must be bound for heaven, while the train leaving from the other platform must be bound for the underworld. They spend the duration of the play figuring out which platform they are on. The students did a fantastic job this past weekend, and will be performing Tracks at the Massachusetts Educational Theatre Guild Festival later this month!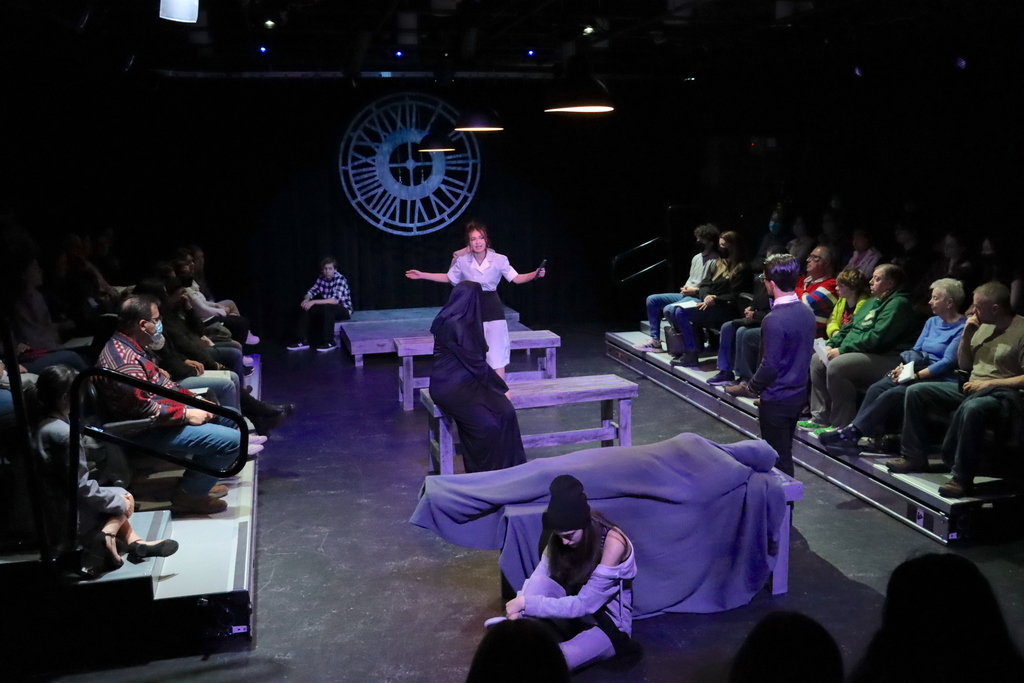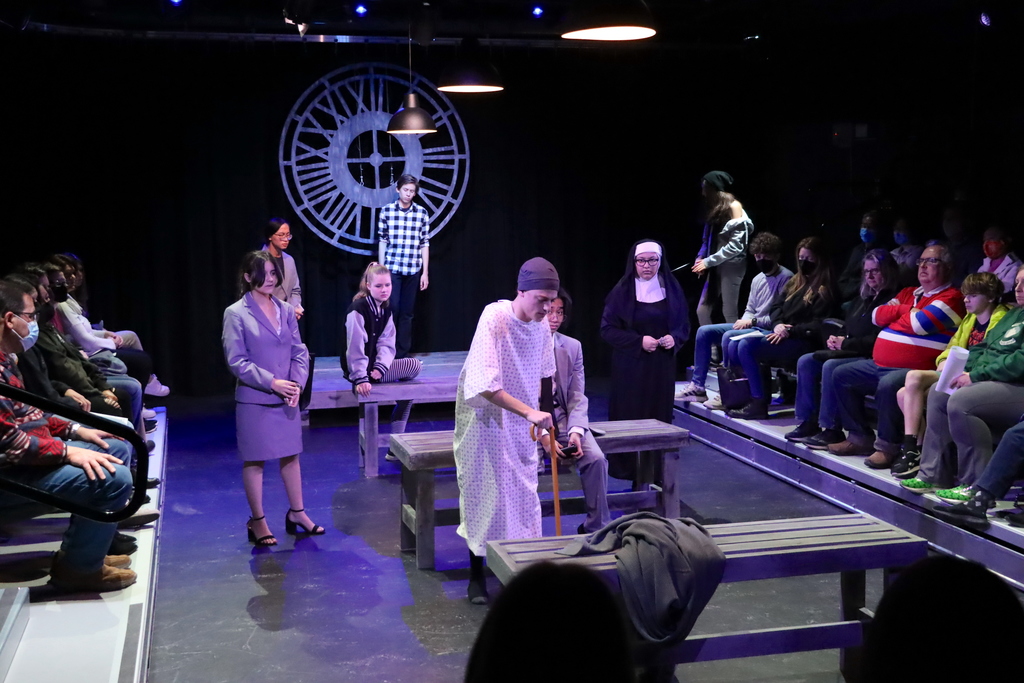 Here is a look at some nice artwork on display at the South School! Mrs. Anello's 2nd grade artists at the South recently learned about the Lunar New Year/Chinese New Year. Since 2022 is the Year of the Tiger, the students created a symmetrical tiger by folding a piece of white paper in half and drew "half" of the animal with oil pastel on one side of the paper. They folded the paper and rubbed the back of the paper so the oil pastel transferred to the other side creating a symmetrical image. Then students added some color with liquid watercolor paints. Finally, the students brainstormed about goals they had for this year and wrote those words around their tigers, with many choosing South School S.H.A.R.K. values - safe, hardworking, accountable, respectful, and kind.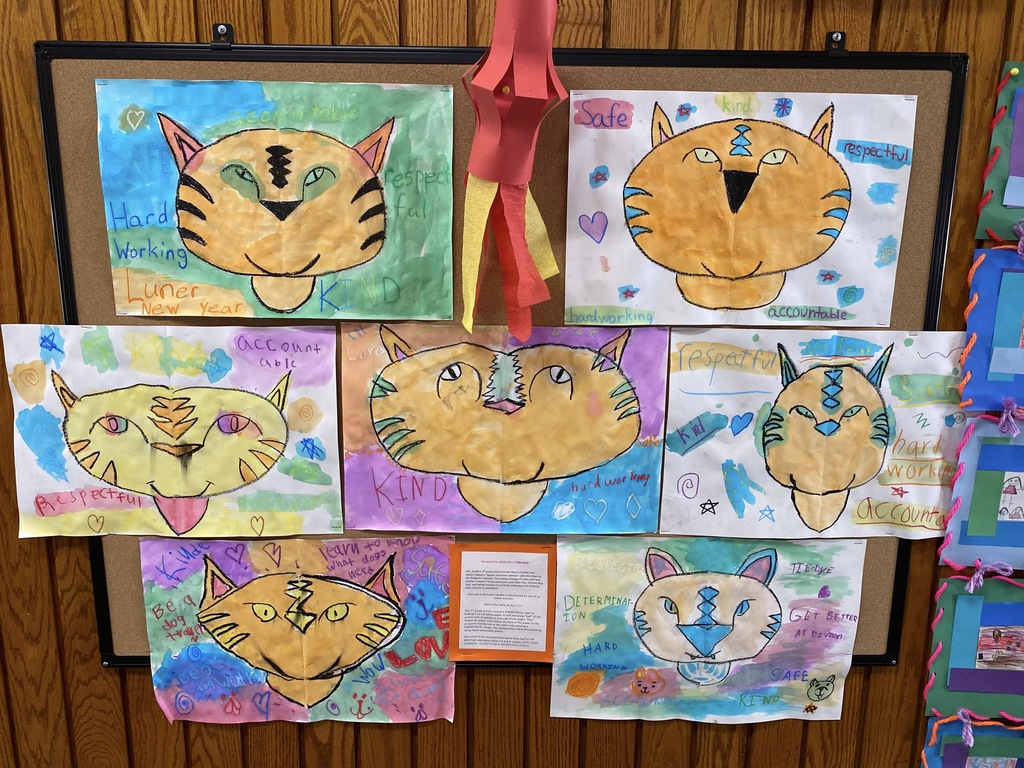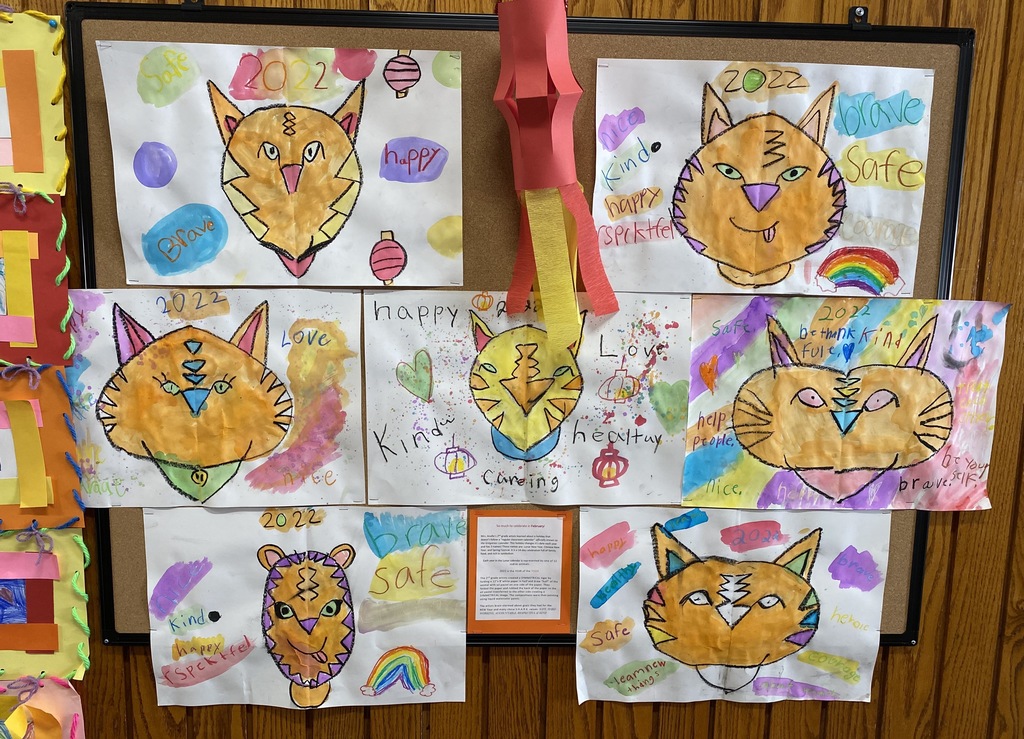 The SPS Fine Arts Department held its annual Pajama Concert last week featuring bands from SHS and OMS. Students in the OMS 8th grade band, the OMS Jazz Band, the SHS Concert Band and the SHS Wednesday Jazz Band performed while wearing their pajamas in what was a fun night with a more casual atmosphere than a traditional school concert.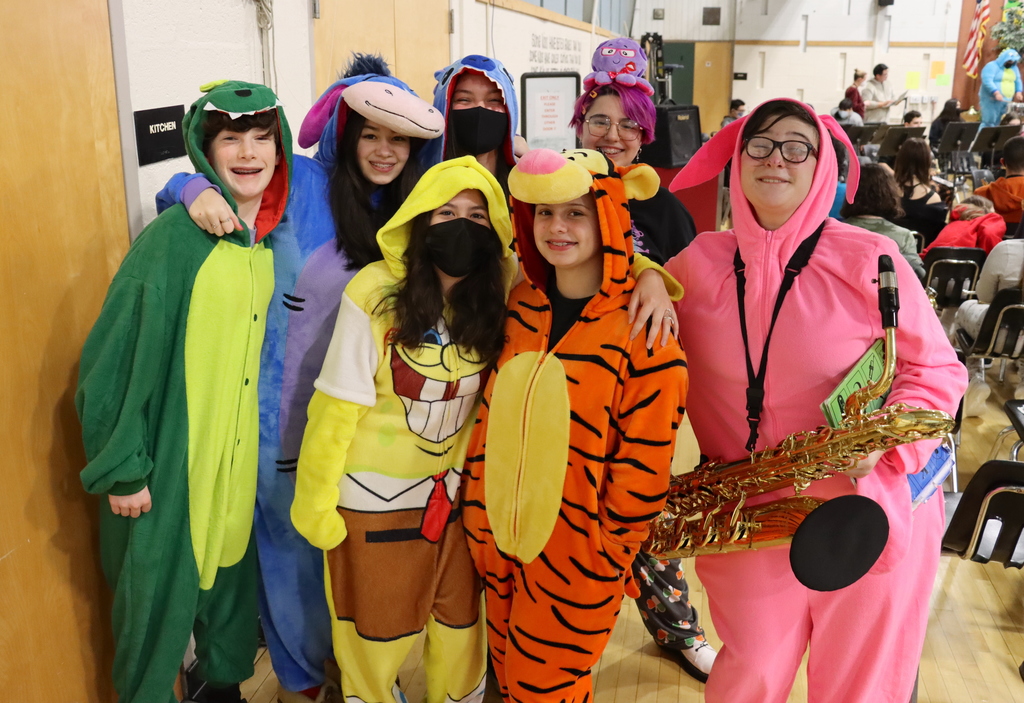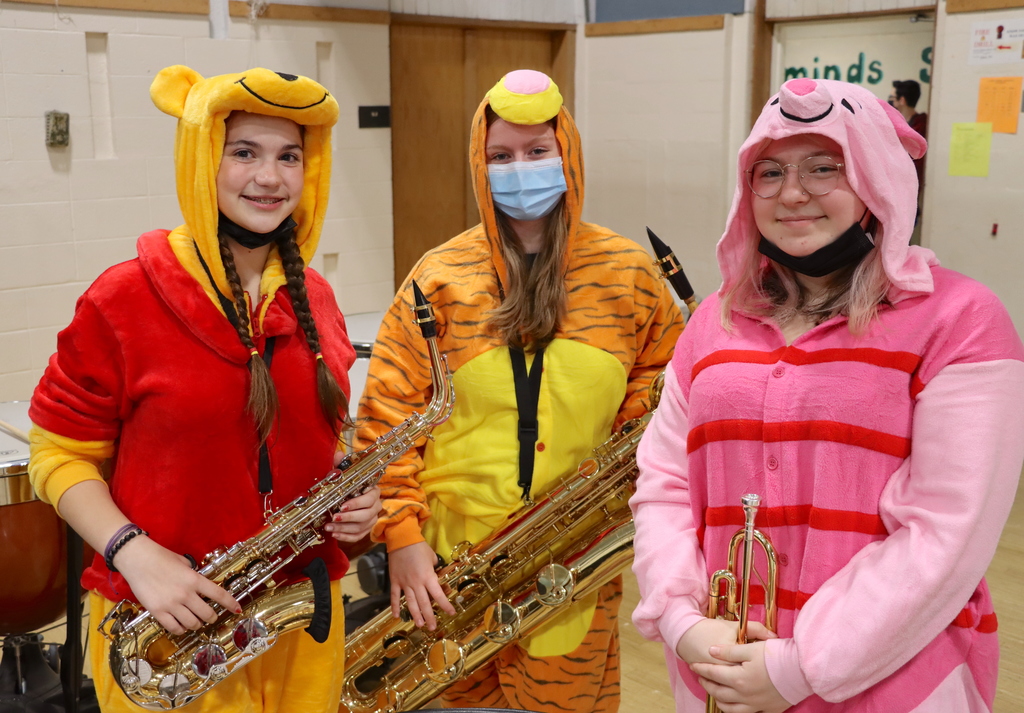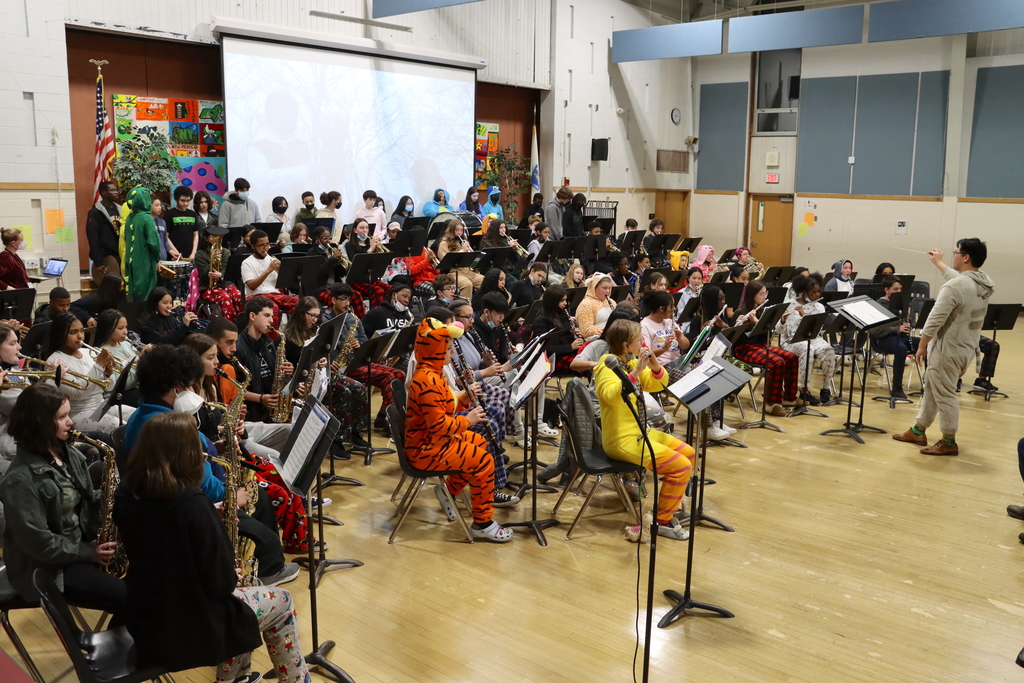 Here is a photo of Gibbons School students who were recognized for demonstrating integrity. This is part of the school-wide Character Counts program at the Gibbons School, which promotes positive character traits. We are proud of these Gibbons Griffins!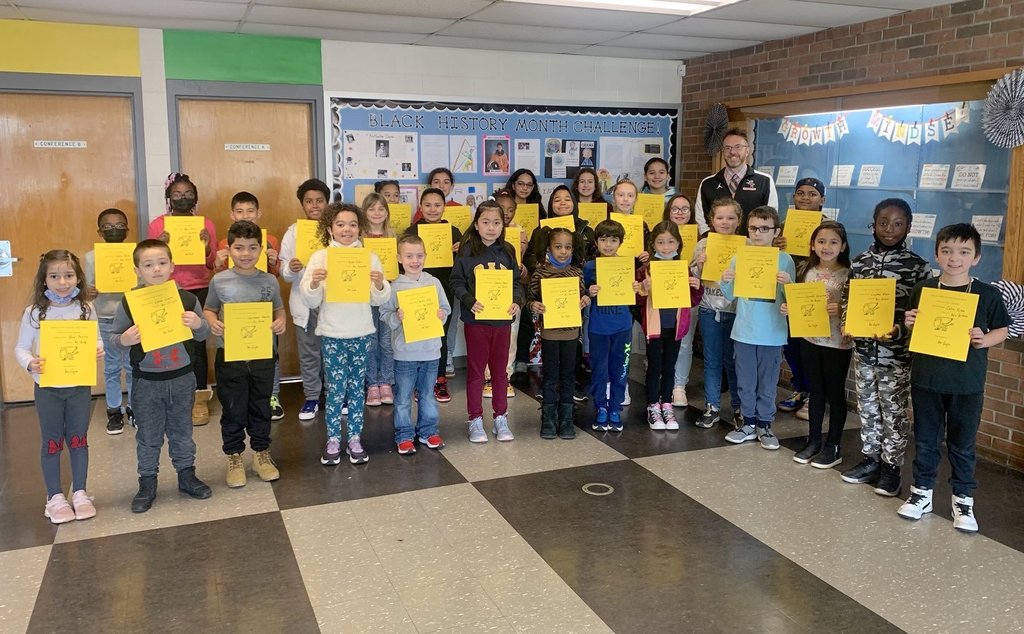 SPS elementary students have been taking part in fire safety assemblies at their schools, with members of the Stoughton Fire Department visiting and sharing important info and tips like calling 9-1-1, having working smoke detectors, not playing with matches or lighters, "stop, drop, cover and roll", and having an exit plan if there is a fire. SFD Lt. Justin Goldberg is pictured here visiting the Hansen School. Lt. Goldberg is a former Hansen School student!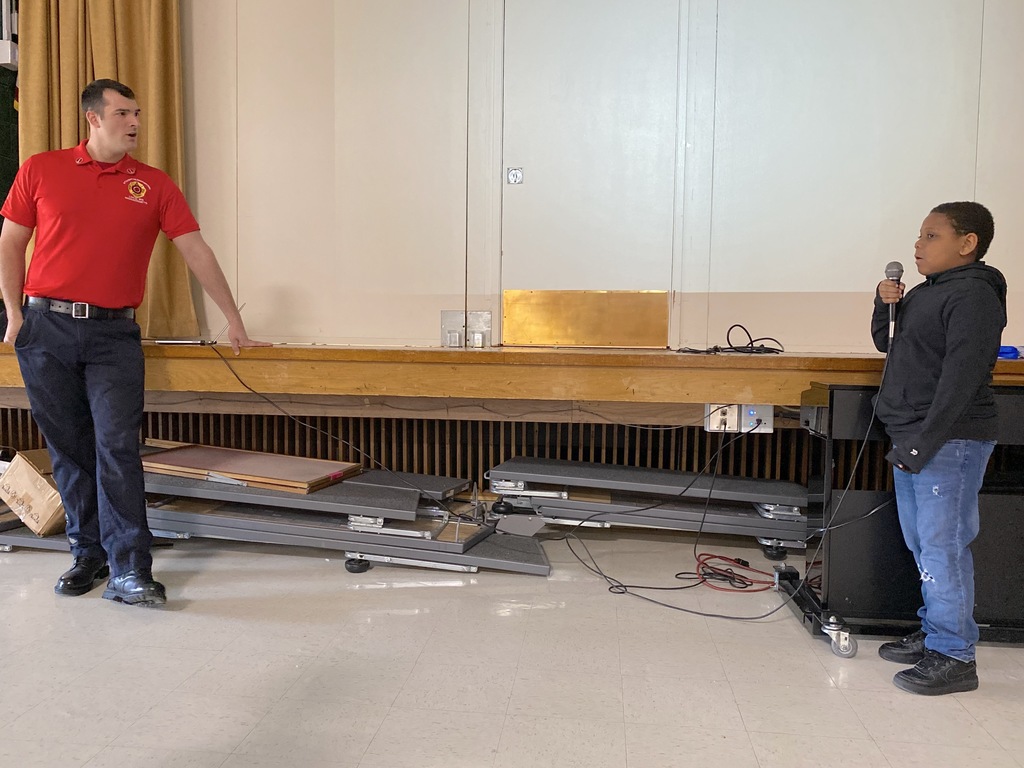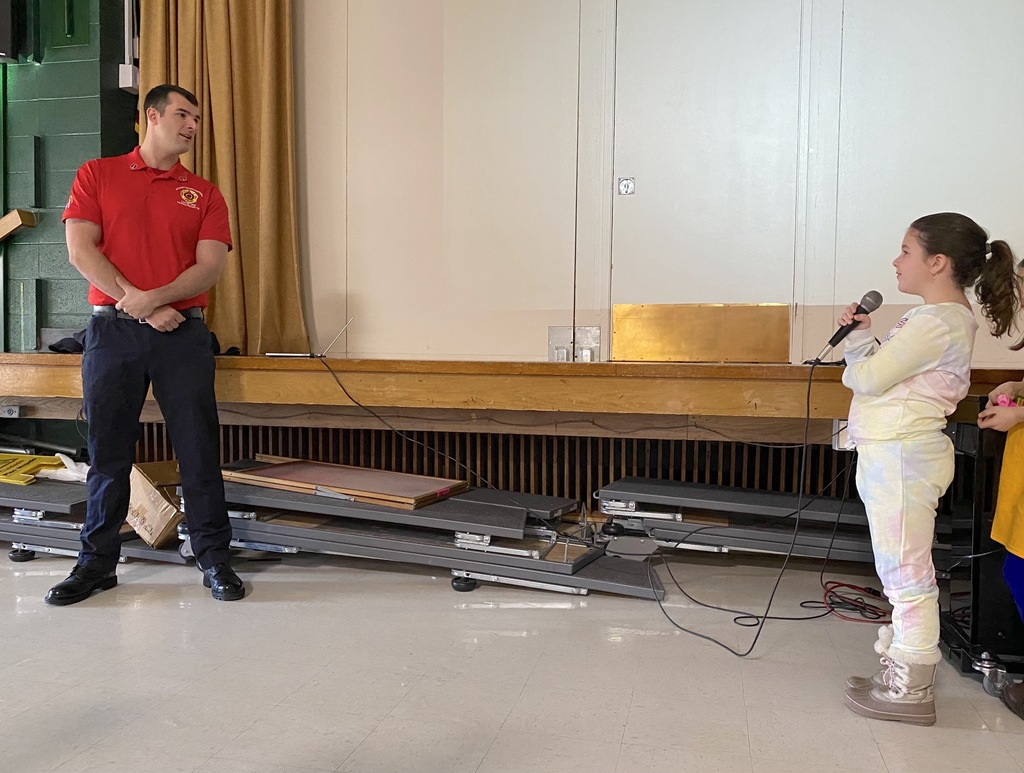 The Dawe School focuses on a different positive character trait each month and honors students for displaying that character trait. Integrity and honesty were the character traits for February. Congratulations to these Dawe Dragons who were recently recognized for showing integrity and honesty! (This month the Dawe is focusing on acceptance and patience.)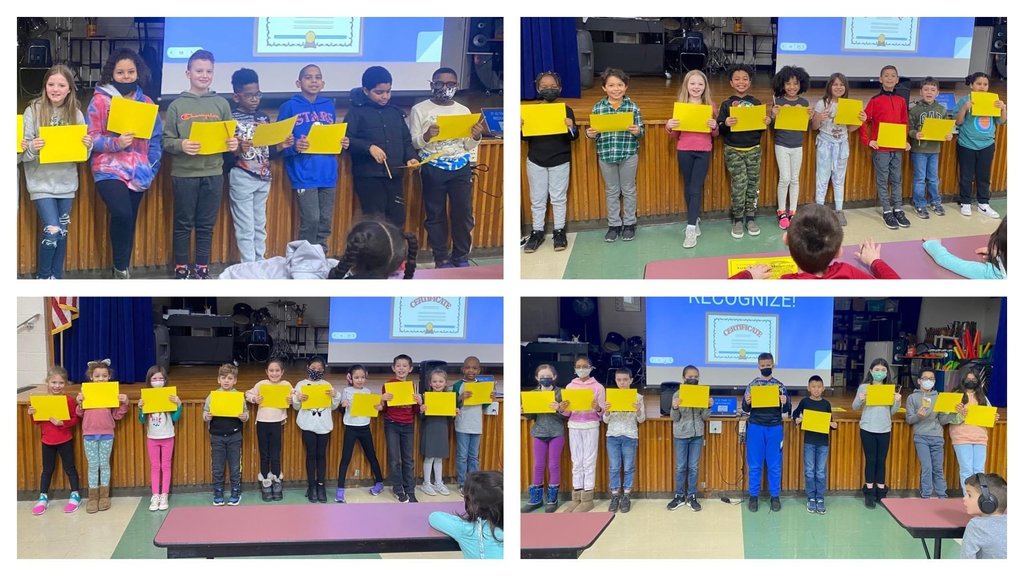 On Mondays, members of the Stoughton High varsity wrestling team work with O'Donnell Middle School students as part of an intramural wrestling program. Thank you to the varsity wrestlers who take a little extra time to give back to the community, and help teach many enthusiastic young potential wrestlers! Coach Helfrich, Iverson, and Gallan see a lot of potential in this group of OMS students, and are excited to help teach them about the sport of wrestling.